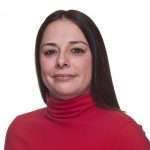 H.K. Truck Center has appointed Vanessa Ciervo chief operating officer, according to an announcement. COO will be the sixth position Vanessa has held within her 18-year tenure. As COO, Ciervo will ensure the successful management of all five departments within the medium-duty truck dealership.
"This promotion was necessitated by our rapid company growth over the past few years," says Henry Knabe Jr., president of H.K. Truck Center. "Vanessa has been a key player in keeping everything running smoothly. She is an important part of the team. We all agree she is very deserving of this promotion."
Ciervo specializes in financial services accounts receivable and sales management. "I want to thank the leadership team at H.K. Truck Center for all the years of dedication to my career and for helping me grow within the company. I am honored to be promoted to chief operating officer. I've been so lucky to have a great team of co-workers to work with and learn from throughout the years. If it wasn't for our team, I wouldn't be where I am today," Ciervo says.
As an active member of the community and a leader of her field, Ciervo serves as a part of the NationaLease CFO committee as well as a member of the South Plainfield Business Association.