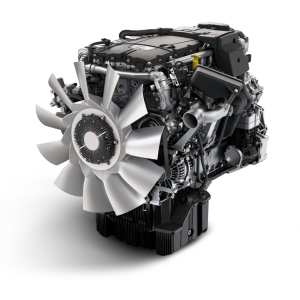 Thomas Built Buses, along with Detroit, will feature the first Saf-T-Liner HDX school bus equipped with the new Detroit DD8 engine at the STN Expo in Reno, Nev., July 17.  A 7.7L in-line 6-cylinder medium-duty engine with specific development for the Thomas Built Buses Saf-T-Liner HDX, the DD8 has a horsepower range of 260-350HP and a torque range of 660-860 lb.-ft.
The DD8 engine will deliver proven power, performance, fuel economy and reliability, in addition to easier serviceability and a low total cost of ownership, according to an announcement. It features top-load oil and fuel filters and long service intervals, with up to 45,000-mile change intervals. Plus, the oil and fuel filters are positioned above the frame rails for easier, faster and cleaner filter changes.
Manufactured from the ground up, the engine features a simple fixed-geometry turbo design that provides performance and reliability along with an integrated engine brake option for braking horsepower to extend service brake life. Plus, smart, fuel-efficient design makes the most of every gallon as the advanced common rail fuel system optimizes each injection event to minimize fuel consumption. The result is at least a 3 percent increase in fuel efficiency compared with other diesel engines in this category, the company says.
The DD8, which was specifically designed to produce low emissions, meets 2017 greenhouse gas (GHG17) standards and will continue to meet emissions requirements through 2020. In addition, the DD8 utilizes technology such as variable cam exhaust phasing, which allows additional heat to the exhaust stream. This technology enables efficient operation of the aftertreatment system in school buses in low speed, stop-and-go operations.
"We are so excited to debut this new engine in our Saf-T-Liner HDX," says Caley Edgerly, Thomas Built Buses president and CEO. "There is nothing like this engine in the market today, and we cannot wait for our customers to experience how clean, fuel efficient and easy to maintain this engine is. Our partners at Detroit have truly engineered the best engine for the industry today."
The DD8 also comes with, Detroit Connect Virtual Technician remote diagnostic service. Virtual Technician provides in-depth and advanced engine diagnostic information. Within minutes, the driver or fleet manager knows the cause and severity of the code, and is provided with recommendations for fault resolution and, if necessary, the parts needed to fix the problem. Critical faults are sent the Detroit Customer Support Center, where an expert analyzes the fault event and provides additional details to the fleet. Full fault event details, including fault event diagnostics, history and trends are available via the new Detroit Connect portal.
The Detroit DD5 and the Detroit DD8 will be available for order in 2018 from any Thomas Built Buses dealer.