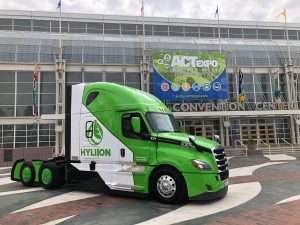 Hyliion has announced the acquisition of Gentherm's battery division. Hyliion's intelligent hybrid electric technology transforms any Class 8 truck into a diesel hybrid electric to lower fuel consumption and reduce emissions. The battery system was already a critical component of Hyliion's 6x4HE solution. The acquisition will further the Hyliion's growth plans and ongoing innovation, according to the company.
"Batteries are a critical component of any hybrid vehicle. The acquisition provides us with control over the complete battery management supply chain from manufacturing and packaging to software development," says Thomas Healy, Hyliion founder and CEO. "This is a huge strategic advantage for us."
The Hyliion 6x4HE is designed to capture wasted energy when traveling downhill and applies that power when traveling uphill to keep the engine in its most efficient operating range. Cost-optimized for the trucking industry, Hyliion uses hybrid electrification to deliver fuel savings of up to 30 percent, lower emissions, instant telematics and a better driver experience. It's easy to install and can be implemented onto new semi-trucks or retrofitted onto any Class 8 vehicle. Hyliion, according to an announcement, utilizes the best battery cell technologies and chemistry with their proprietary packaging and battery management solutions, and the acquisition and strategic partnerships with some of the industry's leading companies allow Hyliion to take their hybrid solution a step further.
"The path to fully electrified long-haul fleets has many challenges. Long haul semi-trucks average 600 miles a day. Electric semi-trucks, including Tesla's, are restricted by 300 to 500 miles on a single charge," says Healy. "Unless we re-grid the entire country to accommodate power consumption with grids as large as entire cities, a hybrid solution is the only answer that makes sense for long hauls."
Hyliion has strategically partnered with Toshiba, which provides the battery cell technology. Hyliion, as Toshiba's preferred packaging and cooling partner in the U.S., then packages the high caliber, high-class li-ion cells and adds cooling and battery management systems for a comprehensive solution. The company also has collaborated with Dana, which offers proprietary cooling technology to improve the thermal management of the batteries.
"By cost effectively transforming any semi-truck into a hybrid electric, Hyliion is providing the trucking industry a unique opportunity to capitalize on the vehicle electrification trend," says Darel Reed, Toshiba national sales manager. "We're proud to be part of Hyliion's breakthrough technology and innovation and look forward to sharing in the company's ongoing success."
The battery division team also has joined the company. Hyliion's new battery management solution will be sold to other companies to utilize in various other applications.
"We're thrilled to welcome our new battery team to Hyliion. The battery technology they created is stellar and gives us a clear strategic advantage. They're exceptionally talented, a great culture fit and already an invaluable asset to the company," adds Healy.