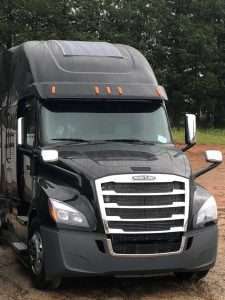 In response to increased fleet demand for the capability to collect and use solar energy to power auxiliary power units, Fontaine Modification Fleet Services announced Monday it now offers installation of solar panel systems from eNow Solar Energy Solutions.
Fontaine's Statesville, N.C., location recently upfitted 26 sleeper trucks with the panels, which are designed to capture and convert the sun's energy into useable power for trucks. Fontaine offers installation of eNow solar panels at all of its modification centers nationwide.
Unlike the heavy glass solar panels typically used in residential and commercial markets, the panels used for transportation applications are lightweight, flexible, only 1/8 in. thin, and sealed with a layer of ETFE that resists ice, debris, corrosion, and extreme temperatures, Fontaine Modification states.
"Working with eNow made our initial installation and documentation simple and efficient," says Jamil Young, president at Fontaine Modification Fleet Services. "The product is rugged, robust and suitable for the working environment. The installation process is simple and straightforward, and we're pleased to provide this service to customers at all eight of our locations."
eNow solar panels collect energy from the sun and converts it to DC power charging the truck's auxiliary batteries. These batteries are used to power the truck's HVAC systems, liftgates, refrigeration, telematics systems and other auxiliary equipment. The solar panels produce about 300 watts per day, which helps fleets extend auxiliary battery life, decrease fuel costs and reduce downtime, the company says.
"It's an honor to team up with a company like Fontaine Modification that has the reputation for being the best in the business," says Guy Shaffer, chief marketing officer at eNow. "They've stood the test of time, continue to grow and attract business from some of the biggest OEMs in the world. Their standard of excellence aligns with eNow's commitment to provide quality, durable energy products to the transportation industry."