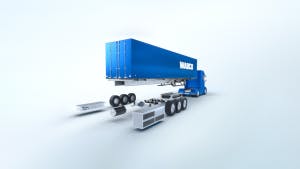 During a press conference at IAA 2018 in Hannover, Germany, WABCO announced coming improvements to its OnGuard platform of advanced driver assistance systems, including OnGuardActive that provides full autonomous emergency braking on moving and stationary vehicles up to 50 mph in all visibility conditions.
WABCO's OnGuardMax now includes the Mobileye camera and EyeQ4 chip in addition to the radar sensor to offer pedestrian detection and autonomous collision avoidance at speeds up to 12.5 mph.
The company has entered an agreement with Valeo to develop new sensors, including 77 GHz short-range radar and solid-state LiDAR. The first application will be Urban Turn Assist, part of WABCO's OnCityAlert system, to provide radar-based cyclist and pedestrian detection and warning while the vehicle is turning.
"OnCityAlert marks the entry point to WABCO's OnCity suite to help protect cyclists and pedestrians in one of the most dangerous urban driving situations for commercial vehicles," says Philipp Helmich, vice president of vehicle dynamics and control at WABCO. "The OnCity suite will provide scalable performance levels from warning to autonomous intervention and is a key building block for autonomous driving."
WABCO also signed a strategic agreement with China's Baidu to create hub-to-hub SAE Level 4 autonomous control for commercial vehicles. The partnership includes integrating safety and redundancy protocols of Baidu's Apollo and WABCO's Adopt ecosystems to create a library of ADAS offerings for OEMs by 2021.
"What vehicle manufacturers and fleets want to do is have full flexibility of selecting from that library the [systems] they want to assemble to build their own autonomous platforms," says Jacques Exculier, WABCO chairman and CEO.
WABCO also announced eTrailer, a prototype that integrates truck and trailer braking system and captures kinetic energy and stores it in onboard batteries for use when the vehicle accelerates. WABCO says the system has the potential to improve fuel savings by as much as 20 percent on short routes and 10 percent on long-haul routes.