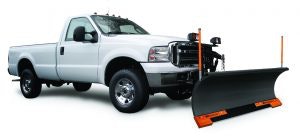 Winter Equipment has launched a snow plow cutting edge system designed for light- and medium-duty trucks that brings its industry-leading large plow cutting edge technology to the contractor marketplace.
Winter Equipment says the Xtendor system features a heavy-duty, steel blade, available in various lengths ranging from 6 ft. to 10 ft. with multiple punch configurations, making it adaptable to almost all major plow styles. On both sides of the blade, the system includes a heavy-duty steel mounting plate and two Xtendor plow guards manufactured from high-quality material and reinforced with Winter's proprietary Carbide Matrix on the bottom and side edge for increased back-dragging performance and unmatched wear, the company says.
"Our Xtendor system is a real game changer for contractors and fleet owners," says Ken Marvar, director of sales and marketing for Winter Equipment. "It can virtually eliminate in-season blade changes, reduces downtime and increases performance in the most difficult situations."
Designed to clear packed snow and ice to reveal a safe road surface, Winter Equipment says the blades can be used on city streets and parking lots. Their ability to resist uneven and premature wear helps to eliminate in-season blade changes, reducing downtime and increasing contractor productivity.
Shipped free, the system comes ready to mount, with all parts, hardware and directions in a single box, the company says.