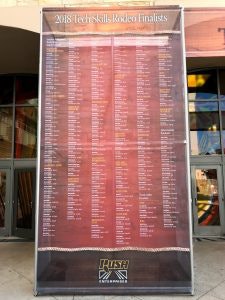 One of the dealer market's most exciting events kicked off Sunday as more than 200 technicians descended on San Antonio for the 13th annual Rush Enterprises' Tech Skills Rodeo.
At Sunday's opening general session Rush Enterprises' Senior Vice President of Operations Jody Pollard announced this year's contest will again be the largest in event history, with 232 technicians, and more than 40 truck sales and aftermarket associates competing to be named the top performers in the Rush Truck Center network.
Participation in the 2018 Rush Tech Skills Rodeo is earned through testing during the calendar year, and Pollard said more than 1,800 Rush technicians completed more than 2,200 entrance exams in hopes of gaining entry to this year's national finals. Combined with the new truck sales and aftermarket sales competitions, Pollard said the 2018 Tech Rodeo will award nearly $285,000 in cash and prizes to associates from throughout the Rush Truck Center national network.
Semifinal competitions at the event will begin Monday, with all 2018 Rush Truck Center Grand Champions to be announced Tuesday.