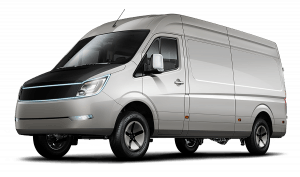 AVEVAI, a new B2B e-mobility and logistics solutions and technology company based in Singapore, recently launched a line of electric light commercial vehicles (e-LCVs) that use supercapacitor battery technology for greater range.
AVEVAI's box trucks and vans, which debuted late last month in China at the 5th Guangzhou International Electric Vehicles Show, have been designed for P&D and service segments in the U.S. and abroad.
"[The vehicles] use cutting-edge supercapacitor battery hybrid technology to achieve an all-electric range of 330km for the IONA Van and 300km (205 miles) for the IONA Truck – up to 40 percent more than comparable e-LCVs," AVEVAI reports in its press release.
The graphene-infused supercapacitors are able to accept and deploy electrical charge much faster than conventional batteries, and are less affected by charge and discharge cycles, thereby giving them a longer life, AVEVAI reports.
Singapore-based e-SYNERGY's supercapacitor technology is designed to extend the life of EV batteries compared to other products on the market.
Vehicle down-time is also reduced with fewer charging intervals and optimal charging versatility, according to AVEVAI.
A 22kW AC charging station will fully charge the IONA Truck in two hours, while the IONA Van takes less than four hours to be fully charged via a fast-charging terminal. Standard 220v charging is also available. The batteries are designed to operate in temperatures as low as -40oC (-40 Fahrenheit) and as high as 70oC (158 Fahrenheit).
"In addition to lowering the total cost of ownership, a factory warranty of five years or 200,000km (124274 miles), whichever comes first, ensures that no further battery-related expenses are incurred by the vehicle owner or operator," AVEVAI states.
"Vehicle down-time is also reduced with fewer charging intervals and optimal charging versatility."
AVEVAI partnered with China Foton Motor Co., Ltd. to build the vehicles at the FOTON facilities in Shangdong, China. With the factory and test drive facilities already established, orders are currently underway with minimal build time.
"Our products are developed to the highest international standards for markets worldwide," says Sharavrentsen Tsogt, co-founder, AVEVAI. "Our initial focus will be on China, followed closely by other markets where stricter emissions regulations in cities are also increasing demand for e-LCVs. The US and Europe currently accounts for around 50 percent of the global courier, express and parcel market and we anticipate an increasing need for highly-efficient, cost-effective e-LCVs in these regions as e-commerce continues to gain in popularity."
The AVEVAI company name is formed from the words 'Autonomous Vehicle; Electric Vehicle; Artificial Intelligence', hinting at future developments planned in other key mobility-focused technologies. Partnerships with specialist automotive and technology partners will enable the fast development of innovative logistics software, including AI machine-learning and driverless technology for its next generation of products.