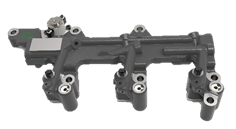 Jacobs Vehicle Systems has launched a compression release engine brake for the all-new 2020 Hino XL Series Truck.
Over the past two decades, Hino Motors' and Jacobs Vehicle Systems' engineers have collaborated to provide engine brakes to the Japanese market. The relationship continues with the introduction of the A09 engine to the U.S. market. The two companies partnered to design a high-performing compression release engine brake for Hino's first Class 7/8 commercial vehicle in North America, Jacobs says.
"Hino is well respected globally for its reliability and performance, and we are honored to be part of Hino's first Class 7/8 launch in the U.S.," says Dennis Gallagher, president, Jacobs Vehicle Systems.
"Jacobs' expertise in engine braking coupled with Hino's ability to drive excellence in quality will create a great customer experience," Gallagher adds.
The Jacobs Engine Brake currently is available on Hino's A09 engine and comes factory installed on all class XL7 and XL8 Series trucks. The engine brake for the A09 engine provides optimal braking performance. Some benefits include being fully integrated with the engine electronic control system and ABS, a two-stage brake operation of medium and high and cruise control compatibility for greater driver control, the company says.