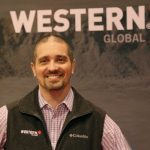 Western Global announces the formulation of a new sales division to focus on their rental and equipment customers.
Western Global says the new division provides a dedicated and focused approach on the equipment rental industry with a team that understands the specific demands and needs of this segment. John Cleary has been named the national sales manager of the new division. In his new role, Cleary will be responsible for developing the strategic plan for growth of the rental and equipment distribution channel, as well as the tactical execution of that strategy through the management of the rental sales team.
"The equipment rental segment is a unique customer base with specific needs and challenges that often differ from our other distribution segments," says Cleary. "We know there is tremendous ROI potential for our rental customers with our products, but we realize that the ability to articulate that value proposition and gain further account penetration would require a dedicated rental sales team that is solely focused on supporting this unique market segment."
Cleary will oversee the new division and its dedicated team, which will be comprised of one national account manager, four regional sales managers, and a dedicated inside sales support representative. All team members are tenured rental sales professionals with decades of combined experience and a deep understanding of the distinct market needs, the company says.