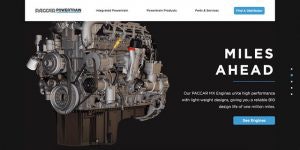 The redesigned Paccar Powertrain website aids Kenworth customers in their search for the latest product information on Paccar engines, Paccar transmissions and Paccar axles.
The website features new engine and powertrain videos and updated literature supported by enhanced navigation and mobile-responsive design to provide seamless access on any device, the company says.
The integrated Paccar Powertrain, which includes the Paccar MX engine, Paccar 12-speed automated transmission and Paccar 40K tandem rear axles, is engineered to optimize performance to maximize the value provided to fleets and truck operators, Paccar says.