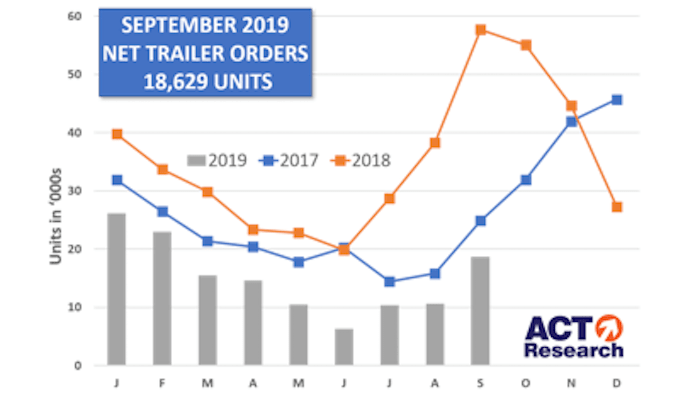 New trailer net orders, which account for cancellations, of 18,600 in the U.S. rose 73 percent in September, compared with the previous month, according to this month's issue of ACT Research's State of the Industry: U.S. Trailer Report.
The total, however, is down 68 percent compared with September 2018 and, year to date, net trailer orders are 54 percent below last year, ACT reports.
"Some order-season driven improvement occurred last month, but the pace was fairly lethargic, particularly if a year-over-year perspective is used," says Frank Maly, ACT director, commercial vehicles, transportation analysis and research. "Short-term comparisons of new orders up 44 percent [month over month] and net volume up 73 percent sequentially are blunted by the new/net year-over-year comparisons of -64 percent and -68 percent, respectively."
ACT Research's State of the Industry: U.S. Trailers report provides a monthly review of the current US trailer market statistics, as well as trailer OEM build plans and market indicators divided by all major trailer types, including backlogs, build, inventory, new orders, cancellations, net orders and factory shipments.
"Fleets continue to proceed with extreme caution toward the new year and there appears to be little on the horizon to shift their psyche," Maly says. "The impact of low rates, reduced freight demand and an uncertain short- to medium-term general economic path combine to create meaningful headwinds to fleet investment. The pendulum, which was strongly on the OEMs' side at this time last year, has swiftly swung to the fleets' advantage."