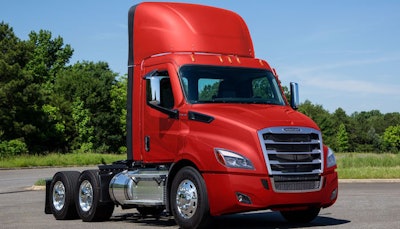 SelecTrucks and Daimler Truck Financial have introduced a pre-owned Freightliner Cascadia program offering customers the ability to purchase a late-model Cascadia truck for as little as $1,250 per month, with a 60-day deferral for the first payment.
This program applies to a limited number of late-model Freightliner Cascadia trucks that have been well-maintained by some of the nation's largest fleets, the companies say. A Freightliner-backed Select Warranty protects each truck in the program for up to three years. The warranty includes the Select After-Treatment System (ATS) Warranty for up to two years.
"This program gives small fleets and owner-operators the opportunity to purchase the best Class 8 truck on the market at a terrific price," says Mary Aufdemberg, president and general manager, Daimler Trucks Remarketing.
"We are excited to offer this program for a limited time and interested buyers should visit their nearest SelecTrucks Center as soon as possible to take advantage of this great opportunity," Aufdemberg adds.
Actual rates, terms, down payment and program eligibility will be determined by Daimler Truck Financial's credit team, based upon creditworthiness of customer. Daimler Truck Financial reserves the right to modify or terminate this program at any time with no notice, the company says. Restrictions apply.