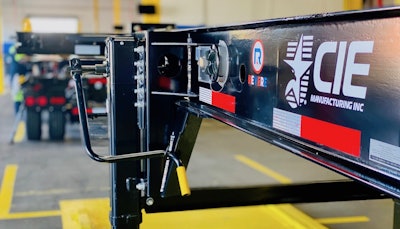 CIMC Intermodal Equipment is updating its name to CIE Manufacturing and expanding its full production capabilities to North America in 2020 to meet the needs of the domestic intermodal market.
CIE Manufacturing is in the process of creating full manufacturing capabilities in both of its ISO 9001:2015 certified facilities in South Gate, Calif., and Emporia, Va. CIE plans to hire an additional 275 people in the U.S. with this move.
With manufacturing facilities on both the East and West coast, each with the capacity initially to produce 100 chassis per shift, CIE Manufacturing says it will now provide domestic customers with lower costs and faster delivery of their chassis.
"The original motivation to pursue this manufacturing move was the trade war between the U.S. and China which affected the cost of our chassis," says Frank Sonzala, CEO. "Now, we see so many benefits to the decision including creating jobs in U.S. communities and building capacity to produce upwards of 60,000 chassis a year for the U.S. market. I truly believe that this positive move into North American manufacturing will be best for our customers, our employees and the entire intermodal industry."
All CIE Manufacturing, Inc. intermodal chassis are produced to the highest quality and safety standards and come standard with radial tires, LED lighting, anti-lock brakes, and a KTL powder coat paint system that resists rust and corrosion. Their award-winning Revere chassis is the only container chassis on the market to carry a 10-year warranty on non-wear parts, the company says.