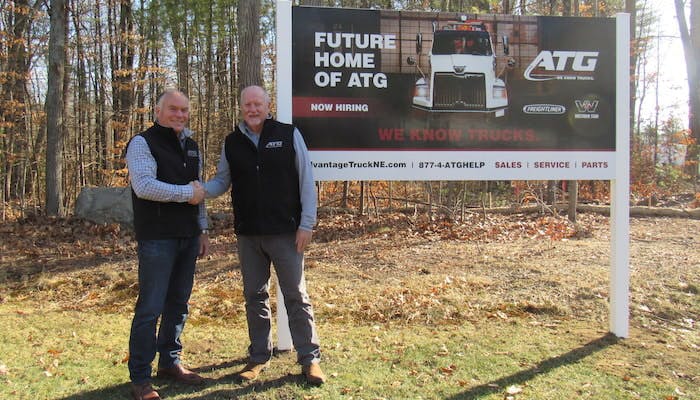 Advantage Truck Group (ATG) announced Wednesday its plans to open a new full-service dealership in Raynham, Mass., to better serve its customers southeast of Boston and throughout Cape Cod and the Islands, Southeastern Massachusetts and Rhode Island, and to support its continued growth throughout the region.
The company says groundbreaking for the 32,000 sq.-ft. foot building will take place later this month and is expected to be completed in early 2021.
The Raynham facility will expand support for ATG's customers in a region where demand is growing for access to high quality local service, ATG says. The new location reflects ATG's dedication to providing a superior customer support experience across central New England, and will become the seventh location in its network of dealers that specialize in sales, service and support of Western Star and Freightliner branded vehicles, adding to locations in Shrewsbury and Westfield Mass., Lancaster, Manchester and Seabrook, N.H., and Westminster, Vt.
"Our new facility underscores our commitment to providing every customer with the premium service experience they expect from ATG and every employee with an exceptional workplace experience," says Kevin Holmes, president and CEO, ATG. "In addition to bringing ATG closer to our existing customers, which includes those in the construction and other vocational industries as well as state and municipal agencies, our presence in Raynham creates an opportunity for us to expand the services we offer to meet the need in this region."
The facility will sit on more than seven acres and is being built with a focus on creating an exceptional service experience for customers and enhanced work environment for employees. Its expansive 18,000-sq.-ft. service area will include 18 service bays, with two bays dedicated to express service. Service areas and bays will be climate controlled, featuring air conditioning and in-floor radiant heat.
ATG says the location will be a certified warranty center for Freightliner and Western Star trucks, with full maintenance and repair services offered for all brands of heavy-duty commercial and vocational trucks. ATG's new facility also will offer a multi-million-dollar parts inventory, a retail parts showroom with counter service area, plus daily parts deliveries to customers. ATG says support services will include on-call access for breakdown assistance and programs that bring factory-authorized technicians to customer sites to perform maintenance and warrantied repair work.
The Raynham location will carry an inventory of new Freightliner and Western Star trucks and will be the only facility in southeastern Massachusetts authorized for Freightliner and Western Star trucks sales, service and parts, the company says.
"We are thrilled to offer a convenient, expansive and modern facility that responds to the demand from Western Star and Freightliner customers in the region for access to high quality local service, support and technical expertise," says Kevin McDevitt, Advantage Truck Group co-founder. "ATG's Raynham location is an area that sees a significant amount of truck traffic and its easy access to all of the major highways allows us to support heavy-duty truck customers traveling across central New England."
ATG's new facility, located in the Raynham Woods Industrial Park at 501 Paramount Drive in Raynham, will offer customers convenient access to the major highways of Interstate 495, Route 24, Route 95, Route 3, Route 44 and Route 138 for service throughout southeastern Massachusetts including the southcoast, Rhode Island, as well as southeast of Boston along the southshore and to Cape Cod and the Islands.
In addition to the growth of services and support offered to customers in the region, ATG adds its facility in Raynham will bring new jobs to the local community. ATG is actively recruiting for maintenance and diesel technicians, parts specialists and medium- and heavy-duty sales personnel for its Raynham location and across its dealer network.