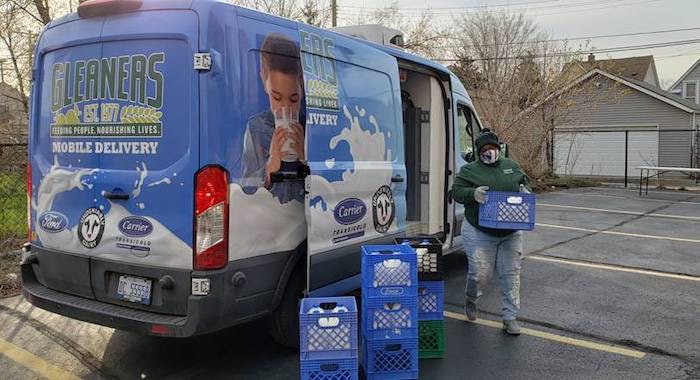 Carrier Transicold announced this week it is providing a Model 35X direct-drive refrigeration unit, through a national grant program with Feeding America, to Gleaners Community Food Bank of Southeastern Michigan.
The unit will be used to support the School Food Mobile program, which delivers nutritious food and milk to school-aged children who are not receiving meals at school due to coronavirus-related closures.
"Carrier Transicold is proud to provide its industry-leading cold chain technology to aid food banks in delivering perishable food to communities most affected by the global pandemic," says Jon Shaw, director, sustainability, Carrier Transicold & Refrigeration Systems.
Carrier Transicold and its refrigerated truck technology are a natural fit to support the critical distribution of food to communities in need during this unprecedented time, including through food banks, the company says. Gleaners serves the southeastern Michigan community, which is faced with an increased need for support following school and business closures.
Separately, Carrier Transicold is donating a Supra 950 truck refrigeration unit for a new 28-ft. box truck that will support Gleaners' expanded emergency response efforts, including 66 new drive-up food distribution sites, modeled after Gleaners' School Food Mobile program. The company says the new distribution sites provide nutritious, healthy food to students and families in low-income areas. Each distribution site provides 300 families with up to 36 pounds of food, including fresh vegetables, fruit, whole grains, and lean protein.
In response to the global pandemic, Carrier Transicold also has prioritized its funding for food banks that have increased need for refrigerated transport and temporary cold storage.
Since 2017, Carrier Transicold has contributed $600,000 in support of Feeding America's network of 200 food banks, with Carrier Transicold's nationwide dealer network providing installation and service support. According to Feeding America, every dollar contributed provides for at least 10 meals, equating to 6 million meals that will have been donated since the inception of Carrier Transicold's social outreach program.
To date, Carrier says its contributions have funded 24 truck and trailer refrigeration units for food banks serving 20 states, with more to come.