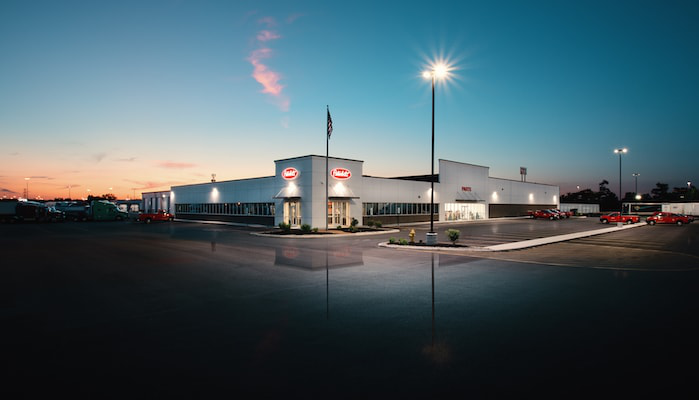 The Larson Group Peterbilt (TLG) has completed its final construction phase for updates and additions to TLG Peterbilt — Cincinnati, located in Sharonville, Oh.
Following a formal ribbon-cutting ceremony last September and initial upgrades in January, TLG Peterbilt says the facility's extensive improvements were finished several months ahead of the original estimated goal date of fall 2020. Led by Cincinnati Commercial Contracting, the second and final phase of construction at the TLG Peterbilt of Cincinnati dealership focused primarily on service bay improvements and additions.
The TLG Peterbilt leadership team is excited about the new location.
"We wanted to make it feel like it was different, not just the old dealership," says Brad McDonald, general manager, TLG Peterbilt — Cincinnati. "That's why we have incredible new spaces, like an open, bright lobby, bigger and better service bays, and a driver's lounge that makes you feel at home. This is what our customers and employees deserve."
TLG Peterbilt says the Sharonville facility's existing service bays were expanded and remodeled and 13 new truck service bays were added, plus a wash bay and two compressed natural gas (CNG) bays. In addition, the company says the facility now has an overhead five-ton crane for engine work and major repairs.
The second phase of updates to the Sharonville dealership location also came on the heels of the first phase, which included a 28,000 sq.-ft. expansion of modern office spaces, a parts showroom and warehouse. The first phase of updates was completed in January, well ahead of schedule.
"Following the completion of phase two, we are very much looking forward to our continued involvement in customer experience and successes with this exciting state-of-the-art dealership, ensuring our customers truly enjoy their visit with us," says Mike Thurston, regional vice president, TLG Peterbilt. "It's nice to be in a spot where we all feel confident to go above and beyond the level of service we offer."