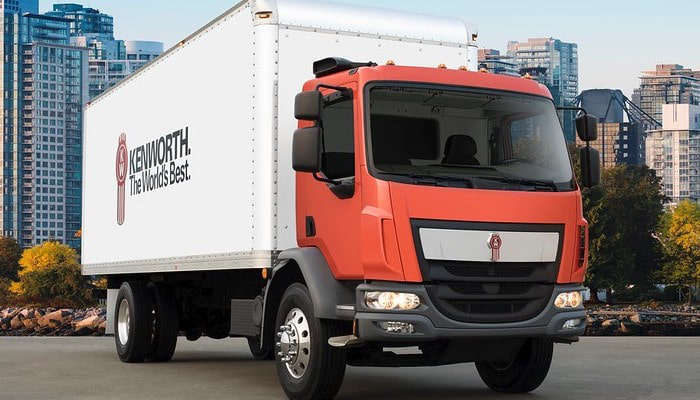 Kenworth now offers WABCO OnGuardACTIVE as an option for the Kenworth T880 and W990. The truck maker also announced its K370 cabover has a new airbrake package with a 23,000-lb. rear axle for enhanced road capacity.
OnGuardACTIVE is an advanced driver assistance system that helps drivers mitigate or avoid rear-end collisions and provides adaptive cruise control (ACC), according to WABCO. The 77Ghz radar-only, advanced emergency braking and ACC system detects moving, stopped and stationary objects and provides visual, audible and haptic warnings. If necessary, OnGuardACTIVE will apply the brakes to avoid or mitigate a forward collision.
"Kenworth continues to introduce systems that can assist drivers to maintain safe distance, mitigate collisions and operate safely in rapidly changing and challenging road conditions. The offering of WABCO OnGuardACTIVE gives customers an additional driver assistance system option for the Kenworth T880 and W990," says Laura Bloch, Kenworth assistant general manager, sales and marketing.
Combined with the K370's standard 12,000-lb front axle, the new axle offering increases the K370's gross combination weight rating to 35,000 lb., Kenworth says.
The package features the Dana S23-172 or S23-172E rear axle, 1710 drivelines, 22.5-in. tires, 16.5- by 7-in. brakes, cast drums, hubs and slacks. The package is not available with rear disc brakes.
"This enhancement for the Kenworth K370 cabover offers customers with more choices to expand the product line into a wider range of medium-duty applications. The K370 provides customers with excellent maneuverability and ease of service," says Laura Bloch, Kenworth assistant general manager, sales and marketing.
The Kenworth K370 is powered by the 6.7-liter Paccar PX-7 engine, which is rated up to 260 hp and 660 lb.-ft. of torque. Kenworth says the engine delivers an exceptional power-to-weight ratio for the medium-duty market. The K370 is standard with the 2100 HS Allison 5-speed automatic transmission.
A key advantage of the K370 cabover over medium-duty conventional trucks is its 55-degree wheel cut providing a tighter turning radius and greater maneuverability for operating in crowded urban environments. The Kenworth cabover also offers a large windshield for enhanced visibility and room to carry a three-person crew with an air-suspended driver seat and two-person bench seat, the company says.
With a bumper to back of cab (BBC) of only 63.4 in., the Kenworth K370 provides increased room for body installations when compared to medium-duty conventional products. This enables the K370 to haul more payload with a shorter overall length, says Kenworth.