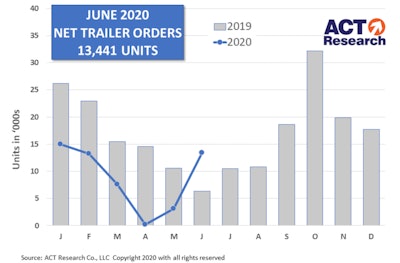 The trailer market rebounded substantially in June, recording 13,441 orders, ACT Research announced Wednesday.
The order total was up 333 percent over a historically weak May but also more than 112 percent better than the same period last year. Before accounting for cancellations, ACT Research says new orders of 16,000 units were up 117 percent versus May and 41 percent better year-over-year.
"It is important to remember those comparisons are to exceedingly low orders during the first part of this quarter, when widespread COVID lockdowns were in place," says Frank Maly, director, CV transportation analysis and research, ACT Research. "That said, the improved sequential comparisons do indicate some fleets, after assessing current market conditions, are beginning to cautiously commit to capital expenditures."
Maly says large fleet orders were key to driving the positive June results, meaning improvement is generally not spread evenly across all OEMs.
"We expect that choppiness to continue as we move through the summer. OEMs continue to seek order/build equilibrium, and while some fleets are willing to make investment commitments, most continue to remain on the sidelines, despite some negotiations occurring to help generate order volume," he says..