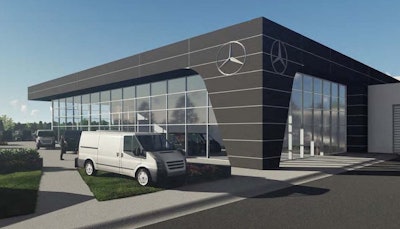 Baker Motor Company will be opening a brand new Mercedes-Benz facility in Summerville, S.C., in December 2020. The dealer says it will be the first-ever standalone Sprinter Van dealership of its kind.
"Summerville will have something that they've never had before," says Baker Motor President Tommy Baker. "It's the first Sprinter dealership in America."
The $25 million, 28,600 sq,-ft. dealership, spanning more than 13 acres, will be housed in the Nexton community and allow interested parties to customize their individual van or up-fit an entire fleet.
The new site includes a car wash, eight-car showroom, consultation desks, conference rooms and lounges.
Ninety-five percent of the new Summerville team will be current employees who have been promoted to run the facility.
"That's the exciting thing about our little company, the employees are not good, they're the best. And on day one, they'll know what to do and the clients will know it's the Baker way," Baker says.
Other than selling Sprinter Vans, the new site also will have the capability to service cars from the Baker Motor luxury portfolio. Customers will have the opportunity to take advantage of all the perks the new facility has to offer, including biking and hiking trails, a play area for the kids and a fishing pond while they are getting their car serviced.
The new facility is located at 425 Sigma Drive and easily accessible from I-26.