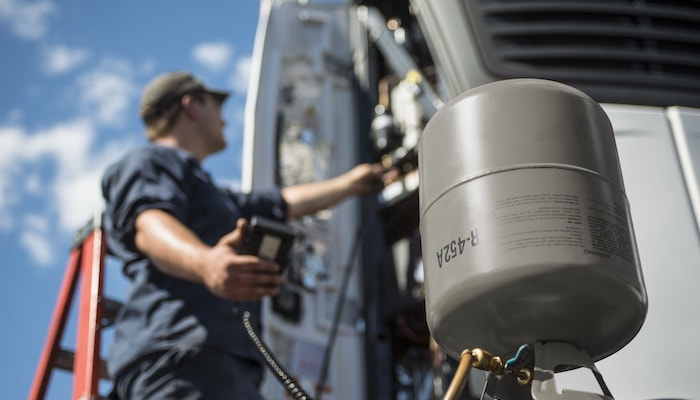 Carrier Transicold announced Tuesday it has begun offering North America's refrigerated haulers the new-generation refrigerant R-452A as an option for new and existing equipment.
Starting in the first quarter of 2021, the company says purchasers can specify R-452A on all Carrier Transicold trailer and diesel truck equipment orders. Carrier units with R-452A refrigerant have performance comparable to Carrier units with R-404A, the traditional transport refrigerant, in terms of refrigerant capacity, pulldown, fuel efficiency and reliability.
"R-452A has a global warming potential (GWP) of 2140, which is about half that of R-404A (GWP 3922)," says Bill Maddox, senior manager, product management, Carrier Transicold. "We are offering it for fleets that want to improve their environmental profiles and to prepare for compliance with evolving regulations."
The California Air Resource Board (CARB) has proposed prohibiting high GWP refrigerants on new transport refrigeration equipment starting in 2022. Additionally, Canada has banned high GWP refrigerants for new transport refrigeration starting in 2025, in keeping with its plans to reduce greenhouse gas emissions in accordance with the Kigali Agreement of the Montreal Protocol. In the U.S., the Environmental Protection Agency (EPA) has approved the use of R-452A for transport applications but has not prohibited continued use of R-404A, the company says.
While there are currently no retrofit regulations proposed, Carrier Transicold says its units already in service can easily take advantage of R-452A. For Carrier units with an electronic expansion valve, converting requires only an operating software update. On Carrier Transicold truck units and older trailer units that use a mechanical expansion valve, the valve will require a manual adjustment or replacement, depending on the model, the company says.
Carrier Transicold notes refrigerant cost may be a factor for some fleets considering conversion to R‑452A. Currently R-452A is three to four times more expensive than R‑404A, which will add somewhat to the initial equipment purchase and could affect refrigerant-related repair costs.
"Still, haulers should start to consider when transitioning to a lower GWP refrigerant will make the most sense for their fleets," Maddox says. "While the EPA permits continued use of R-404A, the proposed 2022 California changes may ultimately drive use of R-452A as a de facto national standard, due to the large volume of refrigerated traffic that moves into that state."