WEB UPDATES:
Following are announcements of new and improved aftermarket Web resources:
*Corporation belts, caps, hoses, power steering parts, thermostats and water pumps; Roadmax belts and hoses; and Schrader tire pressure monitoring system parts.
According to the Downers Grove, Ill.-based company, there are now 96 brands and 1,486 product types represented on
* SAF-HOLLAND launched two new regional Web sites to support operations in Canada and Mexico. The new sites, www.safholland.ca, and www.safholland.mx, are part of an ongoing strategy implemented by SAF-HOLLAND at the beginning of 2009 to create a global network of regional specific Web sites, according to the company.
The new Web sites have been designed around SAF-HOLLAND's regional specific systems, products and aftermarket components for trailers, trucks, buses and recreational vehicles. The new sites also feature improved navigation and search engines for locating products and parts, and accessing in-depth service information, as well as locating parts and service centers. The sites also support online literature ordering.
In addition to the launch of the new Web sites in Canada and Mexico, SAF-HOLLAND added Spanish language for its U.S. site, www.safholland.us.
* Michelin Americas Truck Tires has launched a new, enhanced online truck tire dealer locator. In addition to Michelin truck tire dealer and service provider locations, the redesigned locator at locator.michelintruck.com now offers additional information about the area surrounding those locations, including traffic updates, road construction alerts, restaurants, hotels and the weather.
"Our goal for the new dealer locator is to make it easy for truckers to plan their trips," says Marc Laferriere, vice president of marketing for Michelin Americas Truck Tires, based in Greenville, S.C. "With this tool, truckers will be able to see not only the locations of Michelin tire dealers, retread shops or service providers along their way, but also where they might want to eat or sleep, and what the weather will be like."
In addition to maps, street views and directions to any service provider or truckstop location, the new locator will provide detailed information about the type of assistance offered by each service provider, along with local hotels and restaurants.
People In The News
Following are personnel changes and announcements in the trucking industry:

* Affinia Global Brake & Chassis appointed Josh Russell to director of sales and marketing for Online, Performance and Racing.

* Champion Laboratories, Inc., added Michael Tate to its team as director of sales-heavy duty.
* Consolidated Metco Inc. appointed Larry Sanford to the position of vice president of new business development.
* Fontaine Fifth Wheel North America prom

oted Steve Mann to vice president of engineering.
* Ron Yarnell, OEM sales manager of PPG Commercial Coatings, was elected to the 2010-2013 term on the board of directors of the National Association of Trailer Manufacturers (NATM).
* Steve Robinson has joined Pressure Systems International as director of OEM sales and dealer programs.

* The Aftermarket Business of Webb Wheel Products hired Jared Ridenour to fill the newly created position of fleet sales manager.
* The OES Business of Webb Wheel Products hired Michael Keyes as OES sales manager, Western states.
Potter Webster Acquires McKay Truck and RV Center
Potter Webster Company, headquartered in Portland, Ore., announced it acquired McKay Truck and RV Center, located in Albany, Ore.
The acquisition brings the number of Potter Webster locations to three.
McKay Truck and RV Center has 22 employees and 14 service bays. It was owned by Mike and Carrie McKay and the brother and sister will remain with the company.
For the latest aftermarket news, announcements and trends, visit www.truckpartsandservice.com
Mike Jeffress Honored for Leadership in Maintenance
Michael Jeffress was awarded Commercial Carrier Journal's Career Leadership Award for his long-standing contributions to the field of commercial vehicle fleet maintenance. CCJ editors presented the award at a dinner held in his honor in conjunction with the Technology & Maintenance Council's annual meeting in Tampa, Fla.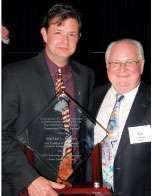 Jeffress, vice president of maintenance for Little Rock, Ark.-based Maverick Transportation, served as TMC chairman in 2004 and received TMC's highest honor – the Silver Spark Plug – in 2003. As TMC chairman, Jeffress was instrumental in the creation of TMCSuperTech, the national technician skills competition held each year at the TMC fall meeting. Jeffress got the idea from a similar competition held in Arkansas, and he lobbied TMC leaders to establish and fund the competition and fleets to participate.
"I cannot recall how many Career Leadership Award banquets I have attended, but I can tell you each year I have sat in that audience and thought, 'What would I say if I were the chosen one?'," Jeffress began his acceptance speech. "You know, I should have written some of those thoughts down. That would have made this so much easier."
Jeffress credited his numerous mentors, including previous Career Leadership Award recipients, of which 11 were in attendance. He noted that the award signifies a change in his career from one of student to one of teacher and mentor.
Great Dane to Launch National Parts, Service Account Program
Great Dane Trailers is now taking applications from fleets to enroll in its AdvantEDGE program, a national accounts purchasing program for parts and service. The company is also in the process of implementing the program throughout its 130-location network of Great Dane dealers and affiliated service and parts provider partners in the U.S. and Canada.

Among the benefits the program offers fleets is consistent parts pricing, standardized labor rates and centralized billing, according to Great Dane. Users will be able to view their service and parts purchase history online, allowing them to better track expenses and trends.
Fleets can also control expenditures by assigning user-specific spending limits and putting safeguards in place, such as the requirement of a purchase order number if charges exceed a pre-assigned amount.
For Great Dane dealers and affiliated parts and service providers, David Durand, the company's director of aftermarket parts, says the program "will bring new fleet business to their door, and expand business among existing customers as well." The program will also help better control cash flow because there is guaranteed reimbursement through Great Dane.
Great Dane partnered with Multi Service to execute the program.
The program is currently being tested and is expected to fully launch throughout the U.S. and Canada in the next several months.
For more information about the program or to request an application, call (877) 600-3433 or e-mail AdvantEdge-customer-support@multiservice.com.
ASE Announces National Automotive Service Professional's Week

The National Institute for Automotive Service Excellence (ASE) has declared June 7-13, 2010, as National Automotive Service Professionals Week. This year marks the 50th anniversary of the week-long recognition, created to honor the commitment and dedication of automotive, truck and collision technicians and parts specialists.
"Twenty-three states issued proclamations honoring National Automotive Service Professionals Week in 2009," says Trish Serratore, ASE senior vice president. "We will once again push to have all 50 states recognize the outstanding work done by automotive professionals across the nation."
As in years past, ASE will provide a form letter and enlist the aid of local shop owners in each state to petition their respective governors to mark this special week, according to the announcement.
"ASE created National Automotive Service Professionals Week to acknowledge the skill and dedication of the men and women who service and maintain the highly complex vehicles upon which we depend so much for our day-to-day transportation," says Tim Zilke, ASE president and CEO. "ASE is proud to help recognize these individuals for their commitment to their customers, their craft and the American economy."
Truck Pride Announces New Supplier Agreements

Truck Pride Partners recently announced two new supplier agreements – one with Exide Technologies and the other with Donaldson Company. Truck Pride Partners recently was formed from the dissolution of Truck Pride from the Independent Warehouse Distributors.
The new supply agreement with Exide, makers of electrical-energy products, makes them the preferred vendor for the Truck Pride Partners battery line. The two-year agreement includes Exide branded and Truck Pride private label batteries sold in the U.S. and Canada.
According to the announcement, while Exide has had a long-time supplier relationship with the original Truck Pride organization, this new agreement marks the first time that Truck Pride has selected a sole preferred battery line supplier.
"This initiative in the area of product management was a critical strategy, allowing the new Truck Pride Partners to strengthen ongoing vendor relationships," says Truck Pride Partners' product committee chairman and member Bruce Greer. "Our goal was to gain supply chain efficiencies on certain product categories, with commercial batteries being a principal focus."
Adds Jeff Sandt, director of Product Management for the marketing group, "Truck Pride now is laser-focused on bringing increased value to its members. Exide, which offered the most robust procurement strategy, sales and marketing support and a vast technology base, was a clear choice."
The new agreement provides incentives for members who previously purchased from other battery vendors, plus loyalty incentives for members who continue to purchase from Exide.
"Truck Pride's selection of Exide illustrates our strength in tailoring a sophisticated battery program for each customer, balancing a range of variables including pricing, depth of product offering, marketing and sales support, distribution efficiency and recycling capability," says E.J. O'Leary, Exide's president and COO. "These capabilities will help Truck Pride members serve their own customers more effectively while streamlining their own procurement processes."
The agreement with Donaldson makes the manufacturer of filtration systems and components the group's preferred vendor for exhaust products.
"Through a new initiative in the area of product management, Truck Pride Partners is prepared to strengthen ongoing vendor relationships. The first product category that went through an analytic review process was heavy-duty exhaust," says Greer. "We need to gain a stronghold on certain product categories we market and compete within, and so exhaust has a new focus for Truck Pride Partners."
"This preferred status for exhaust systems with Truck Pride Partners will expand our distribution channels for Donaldson exhaust products," says Joe Lehman, vice president, Engine Aftermarket business at Donaldson Company. "We are pleased and appreciate the confidence that Truck Pride Partners has in us and our industry-leading filtration technologies." n