The fifth annual Heavy Duty Aftermarket Week brought distributors and suppliers to Las Vegas, January 18-21, for industry panels, product exhibitions and one-on-one distributor/supplier meetings.
More than 1,500 people from 17 countries attended the event, including 229 exhibitors and 426 distributor executives. Additionally, more than 1,200 prescheduled one-on-one meetings were held between distributor and supplier executives.
"HDAW 2010 was all about networking: suppliers, distributors, educational session content and several meals and other networking events," says Dave Bell, HDAW 2010 co-chair and president of Erie Drive Train. "Having the key companies in our industry pull together and support the conference during some pretty tough times for many businesses in the heavy-duty aftermarket speaks to the value of the event to our industry."
Industry economics and issues were presented and discussed during HDAW's Heavy Duty Aftermarket Forum and Business and Technical Theater sessions. HDAW was preceded by the 16th annual Heavy Duty Dialogue.
Heavy Duty Aftermarket Week 2011 is scheduled for Jan. 17-22 at The Mirage Hotel in Las Vegas.
Following are highlights from Heavy Duty Dialogue and HDAW 2010. For expanded coverage of these events,
visit www.truckpartsandservice.com.
Power Train Service Named 2009 Distributor of the Year
Lyle Bass of Power Train Service was named the 2009 Truck Parts & Service Distributor of the Year during the awards luncheon at Heavy Duty Aftermarket Week 2010.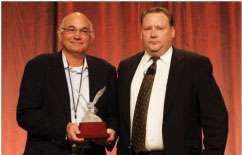 Headquartered in Indianapolis, the nine-location company is owned by Bass and business partner Joe Leffel. It was selected through votes cast by aftermarket representatives from peer distributors, suppliers and industry organizations. Leffel was present to accept the award.
"I think it's recognition of my partner and I and our team. It's a great honor," says Leffel. "We'll wear it very proudly. It's a wonderful achievement."
Power Train Service was founded in 1921 and employs about 150 people. Six of its locations have service shops and the company has an extensive remanufacturing business.
Distributor of the Year finalists were also recognized during the ceremony. Profiles of the winner and finalists are available at www.truckpartsandservice.com.
The 2009 Truck Parts & Service magazine's Distributor of the Year finalists were:
* John Bzeta and Fred Lack, Fleet Brake, Calgary, Alberta;
* Paul and Andy Raymond, Parts for Trucks, Dartmouth, Nova Scotia;
* Andy Robblee and J. David Robblee, Six Robblees' Inc., Tukwila, Wash.; and
* David Willis, CRW Parts Inc., Baltimore.
SKF Retiree Joins Heavy Duty Aftermarket Industry Hall of Fame
William "Bill" C. Diggory, retired vice president and general manager of SKF Vehicle Service Market, North America, was presented with the 2010 Heavy Duty Aftermarket Industry Hall of Fame Award in recognition of his contributions to the industry.
Presented by R.L. Polk & Co. at the Heavy Duty Aftermarket Week 2010 industry awards luncheon, the award acknowledges an individual's length of service, impact on and commitment to the industry, as well as thought leadership.
Before retiring in 2008, Diggory provided 29 years of service to the heavy-duty aftermarket. After joining SKF in 1980, Diggory worked his way into an executive management role and was named vice president of marketing for Chicago Rawhide Aftermarket Division in 1985. Over the years, Diggory continued to progress through various levels of management. His latest responsibilities for SKF included leading business development projects, as well as merger and acquisition efforts.
In his many years with SKF, Bill always focused on progress and seeing projects through from start to finish.
– George Dettloff, president and chief executive officer of SKF USA Inc.
"In addition to his duties with SKF, Bill has showed his commitment to the industry by sharing his time and talent with many industry associations and causes," says Gary Meteer, director of sales for Polk's Commercial Vehicle and Automotive Aftermarket Business Units – the corporate sponsor of this award. "We are pleased to honor Bill with this award, recognizing his leadership, spirit and vision for both SKF and this industry."
Diggory served as chairman of the Heavy Duty Manufacturers Association from 2005 to 2006 and took a leadership role in the planning and promoting of HDAW. Diggory also served on the board of governors of the Heavy Duty Business Forum, was director of the Automotive Sales Council and was an active member of many other industry associations and marketing groups.
TEA Fell to Historic Low
A reliable and major measure of the industry's health – TEA, or truckable economic activity – had a dramatic decline in the third quarter of 2009 versus the previous year when it was already nearly four points lower compared to 2007.
"This is the most serious deterioration of TEA going back to the mid-1960s," says Stu MacKay, president of MacKay & Company during Heavy Duty Dialogue. He notes that it doesn't take much for TEA to have an impact on truck sales, and it showed.
The good news: "The mess we were in did bottom out and started to turn in the third quarter," he says.
The correlation between TEA and aftermarket parts sales is less predictable. During the 2000-2001 trucking downturn parts sales remained stable, whereas during this downturn the market is off 10 percent or more.
Truck utilization in the first quarter of last year was the worst they have seen in the decades of their record keeping, MacKay notes. And while utilization is improving, it is still far off from positively impacting parts sales.
MacKay predicts parts sales this year will recover 8.3 percent, resulting from fewer parked trucks, less parts cannibalization and inventory restoration.
He expects parts sales to peak next year at $16.2 billion, followed by modest declines of 1 to 2 percent between 2012 and 2014. In addition to components lasting longer than ever before, thus requiring less frequent replacement, the universe of Class 8 vehicles will not be much larger than it is today, he says.
He also notes the trend toward the dealer channel gaining more share at the expense of the independent channel will continue, predicting dealers will control nearly 50 percent of aftermarket parts sales by the year 2020.
Utilization, New Emissions Technologies Take Their Toll
While new truck orders finished strong during the last quarter of 2009, it is likely the result of end users pre-buying to avoid vehicles equipped with 2010 emissions-compliant technologies, says Eric Starks, president of FTR Associates during Heavy Duty Dialogue.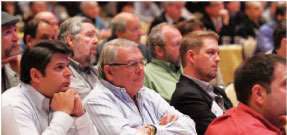 Starks says this wait-and-see attitude toward the new vehicles may continue throughout 2010. "2010 could be worse than 2009," he says. "That's a fear of mine."
He also notes that the impact of the new emissions regulations will not be the sole determining factor one way or the other and that the strength of the general economy and freight activity will play instrumental roles toward a recovery.
Presenting a historical look at the industry's performance, Starks predicts a new freight peak in 2014, which would be an eight-year gap from the last record peak, the same peak-to-peak time span as the industry experienced in the recession of the early 1980s. However, he notes, it took Class 8 retail sales 15 years to hit their next peak coming out of the '80s recession.
More than 450,000 trucks sat idle or were substantially under­utilized in 2009, and while this situation will not be corrected quickly, Starks says he expects utilization to be "a little better this year." He says utilization of 88 percent is the threshold considered healthy and he doesn't expect to go above that any time soon.
Other dynamics Starks commented on included:
* There is no need to add manufacturing capacity. Manufacturers may need to bring some facilities and resources back on-line to meet near-term demand, but there is no need to invest in new infrastructure.
* The average fleet equipment age is similar to what was seen in the 1990s as end users are extending trade cycles and keeping trucks in operation longer.
* There will likely be changes to current size and weight restrictions over the next 10 years.
Starks says talk of the industry resetting itself to a "new normal" is misleading as all of the trends and factors affecting trucking have historical precedence.
ArvinMeritor Debuts New Hydraulic Disc Brake Rotors, Receives Award
ArvinMeritor's Aftermarket business, responding to customer demand and an ongoing industry call for more rust-resistant brake components, introduced hydraulic disc brake rotors with a new patented coating called ZXP3, designed to protect against oxidation and corrosion. The company made the announcement at Heavy Duty Aftermarket Week.

Also at the event, ArvinMeritor was named 2009 Heavy Duty Remanufacturer of the Year by the Heavy Duty Remanufacturing Group (HDRG) of the Automotive Parts Remanufacturers Association (APRA). The award was presented to Doug Wolma, general manager-remanufacturing, ArvinMeritor, at the fourth annual Heavy Duty Remanufacturing Group Summit, held in conjunction with Heavy Duty Aftermarket Week.
In addition, Meritor WABCO Vehicle Control Systems, a supplier of commercial vehicle braking and active safety systems, used the Las Vegas event to mark its 20th anniversary by emphasizing the role of its aftermarket organization in the company's growth.