People In The News

Following are personnel changes and announcements in the trucking industry:
* Mike Short, who previously served as a district sales manager with Accuride, has been appointed sales manager for national fleets. Mike Buggy, Mike Carroll and Ray Fanti recently joined Accuride each in the position of district sales manager, located respectively in Wisconsin, Georgia and Massachusetts.

* SAF-Holland has named Carl Mesker to the position of Vice-President — Aftermarket (Americas).
* Fontaine Parts Connection has established a new customer support department responsible for customer service, technical support, order entry, warranty, training, inside sales and new product launch support. It is managed by long-time Fontaine employee Aaron Puckett, who has been promoted to director of customer support. Robbie Laney has been hired as a product sales engineer reporting to Puckett. Bert Ellis joins the Fontaine Fifth Wheel sales team to fill Puckett's former role as OEM sales manager responsible for Volvo Trucks and Mack Trucks, as well as key account manager for the Southeast region.

* Decisiv, Inc. announces that Pete Russo, a member of the company's Board of Advisors, has joined the company's senior management team as Vice President Professional Services and Customer Support. In this new role, Russo will head strategy and product planning, as well as customer support, which encompasses professional services and implementations.
For the latest aftermarket news, announcements and trends, visit www.truckpartsandservice.com
Polk Enhances Parts Demand Module
To better meet the needs of its commercial aftermarket customers, Polk has incorporated new resources and additional functionality to its Commercial Aftermarket Parts Demand Modules. The modules previously included demand forecasting for filters, brake components, lubricants and tires and are focused on the commercial vehicle (GVW 3-8) aftermarket. The enhanced modules now include capability for customers to see potential demand for a wide variety of engine parts and serve as a resource for the light-, medium- and heavy-duty commercial vehicle aftermarket.
The online modules help aftermarket suppliers and commercial truck dealers enhance efficiency and identify business opportunities. They are updated quarterly and allow users to segment information based on a number of factors, including manufacturer, geography, customer, age of vehicle, vehicle part and other criteria most relevant for their business. Since the modules are available online, a single subscription allows for timely access by a company's entire team.
"With the vehicle population aging, there is increasing demand for aftermarket replacement parts in both the commercial and light vehicle sectors," says Mark Seng, vice president, sales and client services for Polk's aftermarket and commercial vehicle business. "This new functionality of our Parts Demand Modules provides customers with strategic information to help them with business planning, market sizing and maximizing opportunities for business growth."
Power Train Service Acquires Truckers 24 Hr. Road Service
Power Train Service has announced the acquisition of Truckers 24 Hr. Road Service, one of Indianapolis' largest truck and trailer repair service providers. Following the close, Truckers 24 Hr. Road Service now operates as a wholly owned subsidiary of Power Train Companies. Truckers 24 Hr. will continue 24/7 operations.
"Power Train is strongly focused on offering our customers the quality parts and valuable services they need on a daily basis. By teaming up with the Truckers 24 Hr. experts, we are now able to take our top-quality parts directly to our customers and offer installation services at their (customers) location or ours. By providing 24/7 roadside emergency services, we will be able to offer even more time-saving and cost-saving benefits to our customers," says Lyle Bass, owner, Power Train Service.
WEB UPDATES: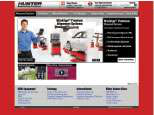 Following are announcements of new and improved aftermarket Web resources:
* Hunter Launches Improved Web Site
Hunter Engineering Company announced it launched a new Web site – www.Hunter.com – that helps customers more quickly and easily access information, including the company's product lineup.
The company said visitors can browse through Hunter lift equipment by clicking on the desired product category and scrolling through the equipment carousels activated for each product line. A "Help Me Decide" feature lets customers compare product attributes and specifications for up to three models.
Each product page also includes one-click access to videos, feature highlights and accessory information related to that particular product. n