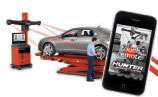 Hunter Offers Touch Remote for Alignment System
With the release of WinAlign 11.1 software, Hunter also offers the TouchRemote feature that allows Apple iPhone, iPod touch and iPad users full wireless remote operation of WinAlign alignment systems, which includes monitoring of live vehicle measurements, controlling WinAlign software features and viewing of vehicle-specific adjustment illustrations and digital images.
TouchRemote requires a free app from the Apple iTunes store (search for "Hunter TouchRemote").
Hunter Engineering Company
Visit tpsdigital.com/info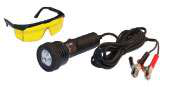 Tracer Products Introduces Blue Light Leak Detector
Tracer Products introduced the Tracerline TP-1300 – a 12-volt, blue light, high-intensity leak detection lamp that the company said enables technicians to quickly and efficiently pinpoint all leaks in seconds.
Tracer Products explained that it works when fluorescent dye is added into an air conditioning or fluid system, the dye will escape through any leak site where it will be detected by a technician using the TP-1300 lamp, which causes the dye to glow brightly.
The TP-1300 features a unique 3-LED lamp head with a service life of 100,000 hours. It provides power equivalent to 100W lamps with an inspection range up to 8 feet (2.4 m) or more. A 14-foot (4.3 m) power cord with alligator clips connects to the battery and increases versatility. Fluorescence-enhancing glasses are included with the lamp.
Tracer Products
Visit tpsdigital.com/info
IPD Launches New Line
IPD announced the launch of its new product line of replacement parts for the Caterpillar 3064/3066 engines. The company's new product offering will include components for in-frame overhaul kits as well as pistons, cylinder sleeves, rings, bearings and gaskets kits.
IPD continues to grow its Caterpillar line with plans of continued expansion for not only new lines but additional products for the company's existing Caterpillar lines.
IPD
Visit tpsdigital.com/info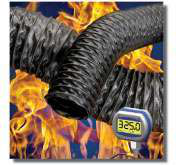 Flexaust's Heat-Flex Available for Shop Ventilation
Flexaust introduced its new Heat-Flex, an all purpose, lightweight fabric-reinforced hose that is designed for automotive and industrial air movement, ventilation and fume control applications up to 325°F.
Heat-Flex CW-325 hose is a single-ply acrylic coated fabric hose that is reinforced with a spring steel wire helix and designed for midrange temperature applications up to 325°F. The company said it is flexible and lightweight, and comes in 2- to 12-inner-diameter inches standard sizes (16 inch custom) in 25 foot lengths.
Listed as UL 94V-0 flame retardant, Flexaust Heat-Flex CW-325 hose weighs 0.25 lbs.-ft. for the 2 inch and 2 lbs.-ft. for the 12 inch. Standard with plain ends, options include cuffs and an external PVC wear strip. A heavy-wall two-ply version is also offered.
Flexaust
Visit tpsdigital.com/info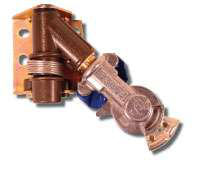 Improved Swinger Gladhands
Phillips Industries' Swinger Gladhands are now fully anodized to protect against magnesium chloride, road salt and chemicals which cause corrosion. The gladhands, with live swivel, were developed by Phillips for intermodal and piggyback trailers where straight or angled gladhands are exposed to damage.
The Swinger allows the gladhand to swivel 180 degrees without kinking the air line; and when not in use, the gladhand is automatically returned to seal, protecting the air lines.
The Swinger swivel design is available with service or emergency gladhands and with Phillips QWIK-E gladhand, with quick release valve that are said to releases trailer brakes 50 percent faster than conventional gladhands.
Phillips Industries
Visit tpsdigital.com/info
Noregon Systems Releases New JPRO Diagnostics Software
Noregon Systems, a developer of diagnostic solutions for the trucking industry, released the newest version of its JPRO Fleet Diagnostics heavy-duty software.
Noregon Systems said it continues to improve its PC-based diagnostic tool for technicians working on today's complex vehicles. Regardless of make or model, JPRO provides visibility to the entire vehicle condition on one easy-to-navigate screen with additional information at the technician's fingertips, the company said.
New with v4.2 is the ability to export data to Excel, Word or Adobe, an improved user interface for vehicle data screens, and embedded links for OEM service literature and troubleshooting help.
Noregon Systems
Visit tpsdigital.com/info

New Snap-on Heavy Duty Catalog
Snap-on's 2010 heavy duty catalog featuring the latest in Snap-on technology and innovation for the heavy-duty tool user is now available
The heavy-duty catalog features an assortment of hand tools including the latest in ratchet technology and a collection of heavy-duty sockets. A collection of impact wrenches and cordless drills highlights the power tool section of the catalog. In addition to the hand and power tool sections, there is also a section on shop and tech specialty tools and heavy-duty tool storage units including the mobile workstation and road chests.
Snap-on
Visit tpsdigital.com/info