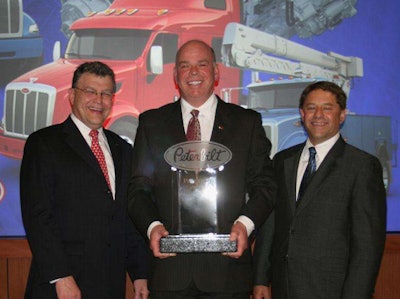 Peterbilt Motors Company has named Winnipeg, Canada's Peterbilt Manitoba Ltd. as the company's 2010 North American Dealer of the Year. The award was presented to Doug Danylchuk, dealer principal for Peterbilt Manitoba at Peterbilt's annual dealer meeting at Paccar's new engine plant in Columbia, Miss.
"Peterbilt Manitoba Ltd. continuously grows their business year after year by embracing Peterbilt's new products and technologies," says Bill Jackson, Peterbilt general manager and Paccar vice president. "They are a first-class organization dedicated to customer service and a true representation of the Peterbilt brand."
Peterbilt Manitoba Ltd. is a full-service facility with locations in Winnipeg and Brandon, and offers a full line of Peterbilt trucks for over-the-road, vocational and medium-duty applications. The shop offers repairs for medium- and heavy-duty trucks.
"We are honored to be recognized as Peterbilt Dealer of the Year," says Danylchuk. "Repeat customers, quality products and our professional service team is the key to our success. We strive to provide customers with a truck that will suit their individual requirements."