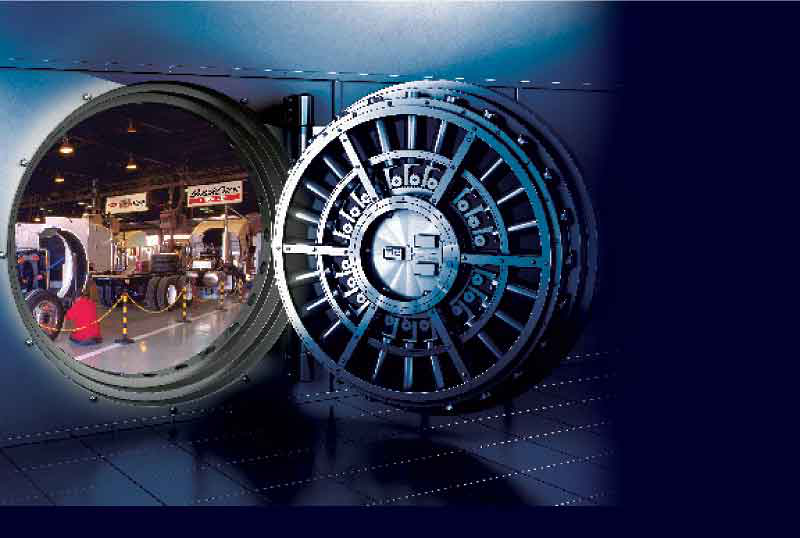 Good shop safety keeps workers on the job, trucks in the bays and business flowing.
There is no greater asset to a service operation than its technicians. Tools, equipment and parts are necessities, but without a good technician nothing gets done. That's why proper technician safety should be a top priority.
Keeping technicians in service bays and out of the hospital keeps business running smoothly and saves time and money. Safety is just good business, and that's why repair garages go to great lengths to keep the shop safe.
The movement to improve technicians' working conditions and keep employees safe began with the creation of United States Occupational Safety and Health Administration (OSHA) in 1970. According to OSHA's mission statement, the organization was created "to ensure safe and healthful working conditions for working men and women by setting and enforcing standards and by providing training, outreach, education and assistance."
In the aftermarket, keeping a technician safe means eliminating or minimizing all workshop hazards and creating a set of guidelines and regulations for employees to follow. OSHA provides all businesses with regulations and recommended practices, but most aftermarket businesses add to those regulations with personal guidelines and policies. Taking a preventive step forward now can help eliminate the risk of a disastrous step backward later.
"I don't ever want one of my employees injured," says Jay Thaudoir, manager of Truck Equipment Inc. in Green Bay, Wis. "I don't ever want to call a technician's family and tell them there has been an accident. I don't want to deal with that and I don't want to lose a technician to anything."
The best way to avoid that is to be safe all the time, says Peter Zaidel of KPA Online. Zaidel works as a consultant for KPA with expertise in OSHA regulations and workplace safety.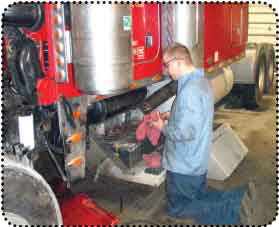 He says aftermarket businesses are making a concerted effort to provide technicians with a safe working environment through workshop regulations, safety committees, compliance with OSHA rules and preventive action. The different techniques are making shops safer than ever, and Zaidel says each technique is proving to be successful in its own way.
Safety committees and workplace safety meetings are providing major dividends at Skinner Diesel in Columbus, Ohio.
General Manager Mike Skinner started a safety committee several years ago, and the group currently meets quarterly. As a repair garage and parts distributor, Skinner Diesel is always at risk for technician injuries. Luckily, Skinner says, the safety committee has effectively eliminated them.
"They've created such a culture change around here," he says. "When we started holding meetings, they were monthly and now we're just doing them quarterly. People know now if something isn't safe, or isn't being done the way it should be, that it's going to be addressed. You don't want to be the one guy doing things wrong in a situation like that."
Skinner says the safety committee is made up of one person from each shop department (brakes and tires, paint, trailers, etc.), and most meetings focus on current safety issues or potential environmental improvements. Sometimes, committee members will walk through departments they don't work in to check on safety practices and offer recommendations.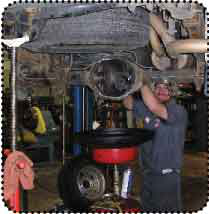 Skinner says committee members always are welcome to bring up new safety ideas, and he says most workplace changes are prompted by committee member recommendations.
Mark Griffin, manager at Sadler Power Train in Dubuque, Iowa says everyone is asked to offer safety recommendations in his shop. Griffin has only three technicians, so he tries to speak personally with each one regarding workplace safety. Griffin says he can't afford to lose a technician to downtime resulting from an injury, so whenever a potential problem is brought up it is quickly solved.
"I listen to everyone's ideas. Everyone's opinion matters here," he says. "We're always looking into ways to do things quicker and more efficiently, and we want our shop to be safe. When a (technician) has an idea on how to improve both, I listen."
Matt Goodding does the same thing at Sadler's Davenport, Iowa store. As the manager of a seven-man technician team, Goodding says he and his technicians make almost all the decisions regarding safety regulations in the shop. Sadler Power Train provides a safety manual and requires shop training for all new hires, but once a new employee hits the service bays, he's Goodding's responsibility.
"The technicians and I work really close together," he says. "I encourage my guys to tell me if they need a new piece of equipment, or if we need to do something to prevent a hazard. If it's something small, (Sadler headquarters) will pretty much let me do what I want."
Goodding says Sadler does a good job addressing major issues when they come up. The company's headquarters regularly checks on the safety records of its shops, and he says management understands how important it is to keep all of its technicians on the job. A worker's comp case doesn't just cost insurance money; it costs the company business, too.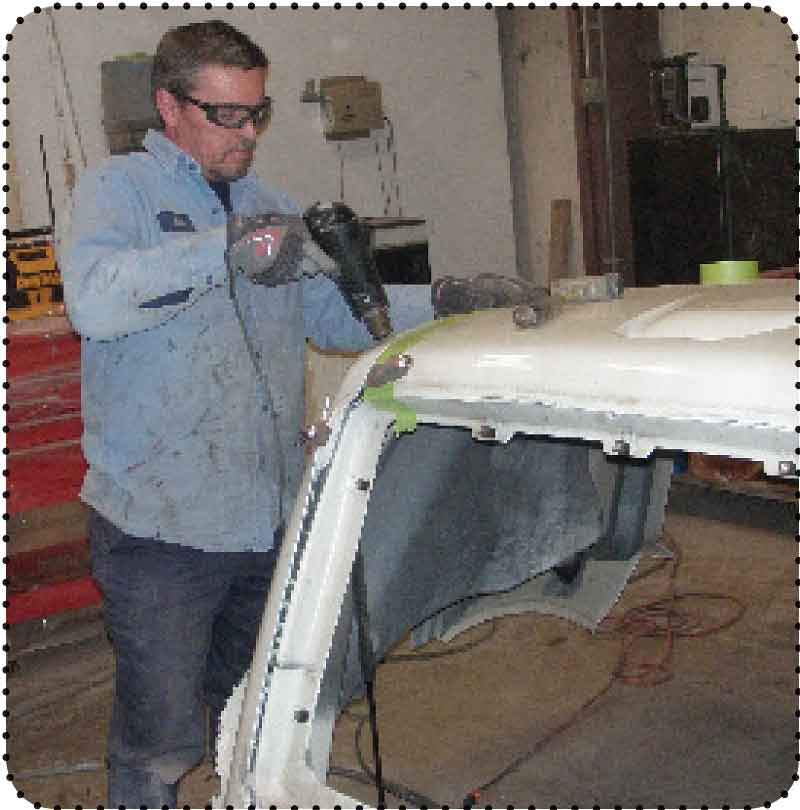 "(Safety) is very important to us because we're not a giant company, but we turn out a lot of work," Goodding says. "If we're missing one guy — every guy here is a key guy — one guy out really puts us in a bind. We've got to have everybody here every day to get everything done."
But keeping technicians on the job everyday requires more than just communication. Employees still need to follow safety practices.
At Skinner Diesel, safety is the result of consistency. Each department has guidelines to follow, and Skinner says the technicians follow them religiously. Since instituting the quarterly safety committee meetings and bringing technician safety to the forefront, Skinner's employees have practically eliminated injuries.
The company went more than 100,000 man hours without injuries in the shop from 2009 through this year, and the only injuries since have been three stitches to a finger and a freak accident that injured an employee's toe. Skinner says both injuries were minor.
Zaidel says some accidents truly are unavoidable, but proper safety regulations can limit their occurrence. He says the most common OSHA violation over the last two decades has been hazard communication, and other common violations include respiratory protection, electrical safety, personal safety equipment and general shop maintenance.
KPA provides consultation to aftermarket businesses to avoid breaking these rules, and Zaidel says most violations can be prevented with a simple change or a more proactive approach to safety.
Besides, repair garages don't need to change everything to stay on the right side of OSHA, he says. Government regulations rarely change, so most businesses already are well aware of OSHA's standards and regulations. Zaidel says they just have to be more proactive about staying safe.
Keeping a technician safe is a full-time job. From the instant a truck is brought into the shop until it's backed out after the repair is complete, safety measures should be in effect. One of the most important components to safety is vehicle operation and placement.
A repair garage can have dozens of trucks come through its doors each day. With only a few technicians on the job, communication is necessary to make sure each truck enters and exits the shop safely and is placed in the correct location.
Skinner says he only allows managers to bring trucks into his garage, and each manager is instructed to perform an inspection in front of and behind the truck to make sure technicians aren't working when a vehicle is moved. Customers hand their keys to Skinner and his managers when they arrive, and no one else touches them until the job is done.
Once a truck has entered a bay its wheels are chocked to keep the vehicle in place. Thaudoir says chocking the wheels allows a technician to move in and out from underneath a truck without fear of the truck moving. It's also a key to anyone who needs to move a truck that a technician is currently working.
Having the right tool is important, too. Griffin says Sadler Power Train makes an effort to provide its employees with new technology whenever necessary. The company's Dubuque garage currently is working to install a new filtration system to improve air quality.
In Green Bay, Thaudoir says he sees his technicians taking a more proactive approach to safety. "I had a technician with a truck on an air-jack recently, and before he started working I overheard him say to another guy, 'Let's get some safety jacks under there before we get started,'" Thaudoir says. "That's where it starts. Just thinking about safety and doing the right thing before hand."
The alternative — an injury — is something no repair garage wants to deal with. Worker's compensation cases cost time and money in increased insurance premiums and medical bills. Simply put: Workshop safety doesn't just keep employees healthy; it keeps businesses healthy, too.
"We have 55 people working here, and we managed to go almost 13 months without having any time lost to an injury," Skinner says. "That was fantastic for our entire company."
Especially with Skinner's location in Ohio, where laws require all businesses to have worker's comp insurance through the state and not private companies — which eliminates the freedom to shop for the best rates. Skinner says it could be a major detriment to his business if his premiums were to go up, so every month without a claim is a moral (and fiscal) victory.
"If you ran a shop and had a lot of claims, (the state) would literally put you out of the business," Skinner says. "We're already paying enough as it is with a good rating, but if you had a bad rating you'd be looking at an addition of $15 to $20 or more out of every $100 (earned) to insurance premiums. No one can afford that. We know if our guys work safely and we stay safe, we'll stay in business the next year."
John Sadler, president of Sadler Power Train, also sees the effects insurance premiums have on his business. Griffin and Goodding are in charge of keeping Sadler's technicians safe at their individual stores, while Sadler is in charge of getting them proper insurance if they ever do get hurt.
The premiums aren't cheap, but an excellent safety record has benefits. Sadler Power Train could receive up to $20,000 in returned fees if it remains injury-free until July 1, Sadler says, and that's a bonus that can be shared with every employee.
"That's gross profit that stays in the company, and I'd rather have that money go to (the employees) than the insurance company," he says. "I think that's an incentive for everyone."
Thaudoir provides meals and other perks to his employees for every month they avoid an accident. He says his team of 17 technicians takes a common-sense approach to workshop safety to meet its goals, which means Thaudoir buys lunch for his employees almost every month. He likes that.
"The more we talk about (safety) and the more we address it the better it's going to be," he says. "Every time I bring some (food) in because of shop safety, it puts that idea in their heads. We want them to think about (safety), because that's how we'll be safe."