Making the Quick Fix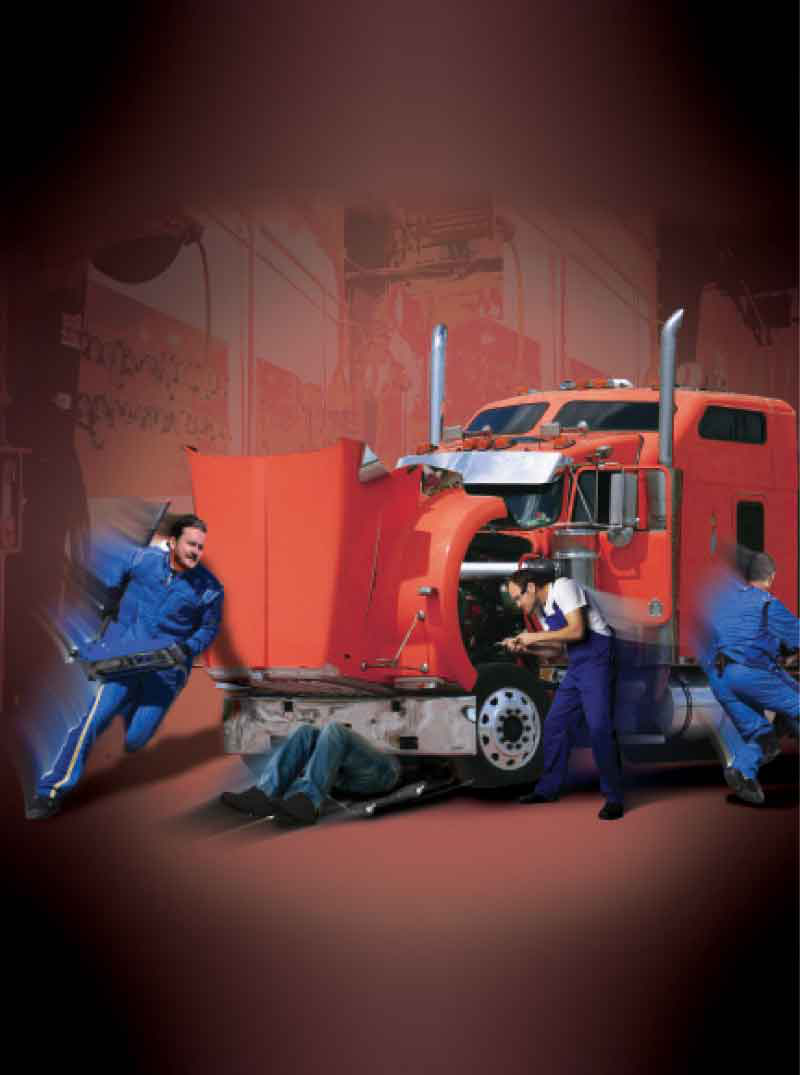 Rapid Repair Assessment is becoming a requirement for dealers and is making its way to the independent aftermarket.
Prompt service and accurate diagnosis have been cornerstones of the aftermarket for many years. Over the past decade, those values have combined to form a movement called Rapid Repair Assessment.
Introduced as a way to diagnose truck problems quickly and efficiently, rapid repair has grown from an vision to a reality. Different variations of the program have been instituted at dealerships nationwide, and customers have latched on to the idea like a fifth wheel coupling into a trailer.
Rapid repair already is seeing rapid application at dealerships. The program hasn't taken off quite as fast in the independent aftermarket, but that doesn't mean a popularity boom isn't coming. The value is there and the resources are available — those using the program say it's only a matter of time before everyone gets involved.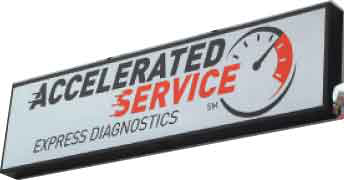 "In this business culture today, it's something all (service) providers need to be doing," says Chas Voyles, fleet service and customer service operations manager at Navistar. "Customers are beginning to expect it, and it's a great service for them. You don't want to be the one place that isn't providing them with a something everyone else is (providing)."
The rapid repair movement began during the last decade when fleets and owner-operators started requesting a more prompt diagnostic service for parked trucks. Fleets were seeing long periods of downtime for trucks for what turned out to be minor repairs. Trucks would sit for days and then when brought into the bay would be repaired in a matter of minutes or hours.
Too much time was being wasted. Trucks needed to be on the road to keep business moving, and too many trucks were spending too much time sitting.
Customers began pushing for changes: faster diagnostics, better repair garage organization and parts delivery and, most of all, better communication between repair garages and customers. Out of that lobbying came the repaid repair movement.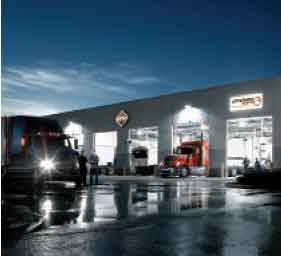 "Long story short, this thing came out of a survey process called 'Voice of the Customer,'" says Kenneth Calhoun, vice president of customer relations for Truck Centers of Arkansas and chairman of the TMC Service Provider Committee. "The survey went out to a large spectrum of operators and rapid repair, or the rapid repair idea, was one of the main responses."
Calhoun says operators were vocal in their insistence on better diagnostic service. They wanted something that would notify them about the problem with their truck quickly and effectively, allowing them to make decisions on their freight as fast as possible.
"They wanted an across-the-board service to address some of the issues they were having," he says.
Not long after the release of the survey results, Wheeltime, a collection of Detroit Diesel distributors, introduced the first heavy-duty rapid repair program. Heavy-duty OEMs quickly followed suit, standardizing their own versions of the program in dealerships nationwide.
Though most rapid repair assessment programs vary in name from one OEM to another, the basic requirements and goals of the program are universal. According to Calhoun, rapid repair programs are designed to diagnose a truck's problems, locate the necessary parts, estimate the time and cost of the repair and notify the customer of this information within two hours.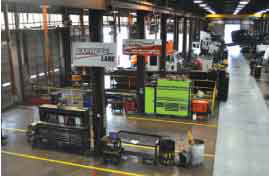 By diagnosing a problem immediately, garages are able to make quick fixes and reserve time for long repairs; while customers can accurately determine downtime when trying to get freight back on the road.
"That truck is that customer's business; he needs it out on the road," Voyles says. "If he needs you to look at it immediately and if takes you two or three days, that's an embarrassment. With Accelerated Service (Navistar's version of rapid repair), you are able to get that diagnosis back to him in two hours and he's able to keep his business running."
Instituting a functional and successful rapid repair program at your garage takes time, but is well worth the effort. Jim Elkins, director of fixed operations for Floyd's Truck Center Inc., currently oversees three garages using rapid repair.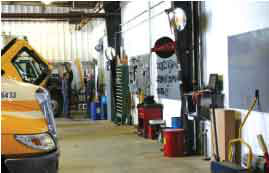 Elkins says it took just a couple months to install Freightliner's version of rapid repair assessment at his first shop, and installation was even faster when he introduced it at his other two locations.
Elkins says there are several key decisions that need to be made before instituting rapid repair. The first step is to designate and set aside specific service bays for the program. With trucks coming in and out every two hours, rapid repair bays need to be easily accessible, close to the parts department and outfitted with diagnostic equipment. Elkins says his rapid repair bays are the ones closest to his service desk.
The right technology is also a necessity. Recent improvements in OEM production means new truck models are very advanced. Diagnostic computers need to be up to date with the newest software and be capable of handling any problem a malfunctioning engine may provide.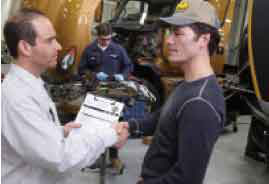 "In this day and age, with the advancements that have been made, the level of sophistication in these new units is just unreal," Calhoun says. "Trucks used to have one just computer. Now they could have up to 12 separate computers talking to each other and working together instantaneously." To operate a successful rapid repair system, he says the correct diagnostic tools are needed for each computer.
Once the bays have been reserved and stocked with diagnostic equipment, Elkins says it's time to decide which technicians will work in the rapid repair bays. A good rapid repair technician must be experienced in diagnostics and have a wealth of technical, electronic and mechanical knowledge. He also must be personable, and have the social skills necessary to communicate repair information to customers.
"You're investing a lot of time, money and training into this person, so you want him to be someone who can connect with customers," Elkins says. "He has to be able to get across all of the information about the repair."
The rapid repair technician also has to be able to connect with the other technicians in the shop, and Calhoun says how the technicians interact with each other is the most important part of rapid repair.
In the days before rapid repair, common practice at most garages was for an available technician to diagnose and repair a truck, handling the vehicle from arrival in the service bay to the conclusion of the repair. With rapid repair, the diagnosing technician instead tells the other technicians what to fix, Elkins says, and they aren't able to investigate a problem before fixing it. The rapid repair technician parcels out the assignments; and the other technicians complete the actual work.
For a garage full of confident and capable technicians, this initially can be met with some resistance.
Scott Zeppenfeldt, vice president of service operations for Velocity Wheel Group in southern California, took a democratic approach to finding his rapid repair technicians. "We allowed our technicians to decide who they wanted working in the rapid repair bays," he says. "They were able to choose someone everyone respected and trusted, and I think that helped them buy into the program."
Calhoun also says it's important to sell the rapid repair program to service managers first to help motivate the technicians.
"You have to have a complete buy in from everyone in your shop for (rapid repair) to work, and your service managers and shop managers have to really push the program," he says. "These service managers constantly get bombarded with changes; technology comes at them at an extremely high rate of speed. They can be resistant. You need them to support it in order for the rest of the technicians to get on board."
When everyone is on board, rapid repair is a simple program to execute. Trucks move in and out of rapid repair bays where the technicians identify the problems. Small problems can be fixed during the assessment, while larger problems are forwarded to the customer and the truck is sent to the shop to be repaired. Garages using the program have been pleased with its success.
"We've had nothing but good things come out of it," says Mike Smith, service consultant for Diamond International in Memphis.
"Our national fleet customers have trucks in here every day, and they've seen a huge difference in turnaround time. Some trucks used to spend several hours or days on the lot and now they're checked in within two hours. We're getting things done faster, and we're able to get more trucks — and more business — through the doors every day."
"We should have done it earlier than we did," Zeppenfeldt adds. "We knew about it, but we didn't know how we wanted to institute it. Change is difficult. Sometimes the guys in the back will fight a change if they don't understand it. Once we started doing this and the guys saw the revenue it was generating, they really came around fast."
It doesn't take any time for customers to start enjoying the benefits of the new protocol. At Truck Centers of Arkansas, Calhoun says his customers started using the program almost immediately.
"It's funny, in this business things that start out 'cool' quickly become an expectation," he says. "At first customers were just glad we had (rapid repair) as an option. Now they expect it every time."
Voyles thinks that's a good thing.
"With the economy being the way it is, downtime is the biggest enemy for the owner-operators. If their wheels aren't turning, they aren't earning," he says. "We are their service providers. We had to do something to make things better for them and we've been able to do that. It helps their business and ours."
Elkins agrees, and believes the program is a net positive for the repair garage and the customer. "Having a truck sitting in our lot for hours waiting to be diagnosed was a bad scenario for everyone. Now we're getting everything done faster and that's saving us time and (customers) money," he says. "Twenty percent of the time the repair is made while we're diagnosing the truck — in the past, that truck might not have even entered the shop in two hours."
The program's overwhelming approval rating means it's only a matter of time before it's universally accepted and used in all repair garages as well, says Voyles. "As far as right now, each OEM has its own version of it and some independent garages are getting on the bandwagon after seeing the seriousness of it. It's definitely starting to grow," he says.
But until the program reaches every garage, it will remain a differentiator. Customers want good service fast, and rapid repair provides that.
"Sometimes it's hard to look at a major change and see the benefits," Smith says. "I can only speak for myself, but for us, there is definitely a feeling of 'Why didn't we do this years ago?' We're turning around trucks faster than ever and the customers really like the program. I think it's been great."
Zeppenfeldt adds, "I like what it's done for us. It's a positive change. We're trying to expand it to our second and third shifts to help even more customers. I'm glad it's something we've done."