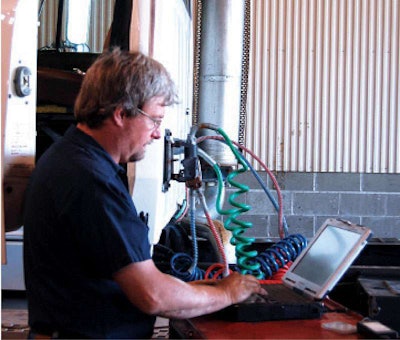 With the introduction of new technology, the repair order approval process is evolving.
Every company wants to find ways to save time. No matter the industry, saving time and managing it is a daily task. Products that aid the process are assets, and can make a major impact on a company's bottom line. In the aftermarket, the repair order approval process is fraught with time delays.
All repairs need to be approved by a vehicle owner or fleet maintenance manager before a repair can be made, and the sooner a repair order can be forwarded from a garage to the vehicle's owner and back to the garage, the sooner things get done.
Over the past decade, there has been a serious push to expedite this process. Both sides want to speed things up. Fleets and owner-operators want their trucks back on the road faster, and repair garages want to use their bays to complete more repairs.
In the past, there have only been minor improvements to the process, but with the introduction of new technology, businesses on both sides of the spectrum now see the potential for a major upgrade. Approving repair orders doesn't have to take all day anymore.
 The improvement of in-house computer software for fleets and service providers has been the biggest change in the repair order approval process.
These new programs have improved organization and communication in repair garages, they've created viable archives for all repair orders and are able to effectively gather and hold more information per repair order than any previous workplace system. Similar programs also have been released that cater to fleets, providing crucial time-saving opportunities to everyone involved in the repair process.
By making information collection and organization easier, service providers are getting information about repairs to customers faster than ever before, and they can answer questions and make adjustments at a rate they've never approached in the past.
Office file cabinets are finally becoming obsolete. Every piece of information a service provider could possibly need is now at his fingertips. And with fleets also making improvements, repair orders are being written and approved in record time.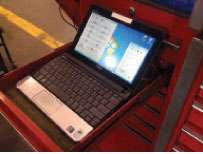 Keith Ely, managing partner of Keith Ely & Associates, says that's a good thing. Repair garages and fleets have long desired a better method of approving and completing repair orders. With this new technology, Ely says there is finally a way to meet their needs.
"The need for a faster solution to this (problem) has always been there. There's always been a push to change the way things have been done, but I think now we're at a point where the technology has finally caught up with ambition," he says.
Before this new technology, in-house organization and poor communication regularly slowed down the process of approving a repair order. The first shop software programs weren't complex enough to handle parts orders, business archives and repair orders — information was regularly misplaced. Office filing systems worked at keeping records, but manually writing and organizing every repair order was an exhausting process for garages everywhere.
Communication wasn't much better, as the telephone was the only way for both sides to reach each other for decades. The phone allowed service providers to recite repair orders to fleets and allowed them to voice concerns, but without a secondary method of communication to forward visuals, information was regularly lost in translation.
The introduction of e-mail and fax machines was major progress, though improving modes of communication didn't do much about fixing problematic shop practices. Technology was needed to make those adjustments.
Workplace software programs have made a 180-degree change since first being introduced. Dozens of programs are now available to service providers to improve anything from parts ordering to hourly scheduling.
Having a readily accessible program to handle repair orders is a necessity. The new programs are designed to provide several major benefits to each service provider, all of which have expedited the process of approving a repair order.
The first benefit of having an organized repair order program in a garage is the way it supplements communication between the service bays and the shop office.
Technicians can use computers located throughout the shop to quickly access a repair order and get information about any truck that enters their bay. The technician can see line-by-line what a customer wants done and how, so they are able to work efficiently without waiting for constant updates from a shop foreman or manager.
Whenever a change is made to a repair order, it changes on the technician's computer the instant it's entered into the system.
"A vendor that knows how to get things done efficiently and knows how to cater to a fleet's needs is a benefit," says Gary Cummings, executive vice president and COO at FleetNet America, a company that assists fleets in finding service providers that cater to their needs during roadside emergencies.
"A customer will be in a better mindset if he knows the vendor is capable of making changes and understands how to relay that information."
Service provider's managers and office workers also benefit from the computers in the shop. Every time a technician completes a step in a repair, he logs it in the computer near his service bay.
That information immediately updates to the office computer, allowing managers to update customers on the status of a repair instantly.
New repair order software also provides much more information. When repair orders were logged manually, a garage employee would need to search for information in stacks of paper to find vehicle history or a type of repair. With that much legwork, it wasn't uncommon for less important information to be left off orders or not recorded.
Technology has eliminated that problem. Technicians now can record everything that goes into repairing a vehicle, and that information is saved forever with the repair order in the computer program.
"It's become much easier to log an order and what goes into it," says Buddy Timme, senior account executive at DP solutions. "Everything is saved electronically, so there's room to be more detailed and provide more information."
That extra information once again comes in handy when a customer calls about something on the repair order. "Now you have an electronic tool that filters information around the shop," Timme says.
"Your employees are communicating by adding information to the program. When a customer calls and has a question, or wants to change something, the person answering the phone is completely up to date on the (repair) and knows what to tell them," he adds.
These new in-house management systems also can prevent repairs from becoming customer relations problems. Most new programs feature a tool that estimates repair times based on the needed work. As a truck is fixed, the repair time decreases depending on how difficult the repair has been and what is left.
Carroll "Scooby" Barbre, product architect at Karmak, says most service providers can use that time estimate to notify customers when a repair is going slower than expected. Fleets want their trucks back on the road as quickly as possible, but setbacks are part of the repair process.
With this new technology, Barbre says those setbacks can be noticed earlier and minimized. And the quicker a problem is addressed, the quicker the additional work can be approved and the repair completed.
"The biggest thing with the in-house system is it provides a proactive approach to each situation rather than a reactionary one," Barbre says. "Since you can follow things in real time, if a job is supposed to take a technician four hours and in two hours he isn't close to being completed, you know that and you can do something about it. You can get that information to a customer and tell him the (repair) is taking longer than expected. Everyone knows what is going on earlier."
And that kind of cooperation is a big help. A repair order is rarely written, executed and completed without any problems, and Cummings says knowing how a repair is progressing and where potential problems may arise helps a service provider stay in good standing with its customer.
"Every customer wants to know how long the truck is going to be down and how much it is going to cost them," he says. "But they also want to know if there is a problem while it's being repaired. They want to stay in the loop. They don't want to discover there was a delay hours later."
Ely agrees, and says a service provider is better off constantly updating its customers on a repair's status rather than rushing and not telling them anything.
Any shop can make a repair, he says, but customers will come back to the one that provides quality customer service and positive interaction. That's what makes this new technology so important.
"With these new systems, I think customer communication improves even if (service providers) are under the gun more," Ely says. "Customers expect more out of them, but they can provide so much more information. The added interaction between both sides strengthens their relationship."
But as much as these new programs have helped, changes still can be made. The introduction of web-based interactive software is the next step, and there already are companies in the aftermarket providing technology that allows up-to-the-second messaging between fleets and service providers.
The programs are far from industry standards, but they are gaining popularity.
The trick, as far as Cummings is concerned, is how each service provider integrates the new programs into its workshops. The web-based technology will help, but most service providers need assistance in understanding how to use it and how to make it work for them before they see the benefits, he says.
With in-house repair order software already in use at most garages, adding in a new web-based program without a plan can lead to a lot of extra work.
"That's the challenge, there are so many different systems and you don't want to double input information," Cummings says. "You don't want any employee putting the same information into two systems all the time, so it's important to try to integrate the different programs."
"The next leap is going to be an integration of these new systems into the business systems you already see out there so you don't have duplication," adds Ely.
"There's been some push back on that because it forces a major change. If you don't do it right, it can be cumbersome. But I think ultimately it is the right move because the benefits outweigh the costs."
The Next Frontier
Improving the repair order approval process is a never-ending quest, but that doesn't mean developments aren't being made. Over the past decade service providers have started using in-house organizational software to track repair orders and accumulate information.
This new technology catalogs much more information than past workplace practices, and allows service providers to update customers about the status of their repair before any shop scheduling changes are made.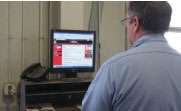 This proactive approach is saving time and money while improving customer service, and yet, fleets and owner-operators still beg for more. Recently, new Internet-based technology has been released to the aftermarket that is designed to allow up-to-the-second interaction between customers and service providers.
The new technology features a web portal for constant dialogue and easy interaction, and also is designed to allow service providers to forward all repair order information to customers in the blink of an eye.
These programs are the next step in expediting repair order approvals, and repair garages and fleets are beginning to jump on board.
"I usually look at the industry in three parts," says Dick Hyatt, president and CEO of Decisiv, one of the companies pioneering this online technology. "One third of them get it immediately; they see the value and immediately change. The bottom third will resist a change to their deaths, and the middle third are who we work with. They are the ones who are looking into the new technology and looking at the benefits. They're trying to see if things will work for them."
Hyatt says the top third ignite changes and the middle third will make a procedure commonplace in an industry. He says nearly half of the middle third has embraced the technology, so we are nearing a tipping point. "We're close," he says. "Fleets drive progress in this industry and fleets are driving this change…The world is turning. There are finally solutions out there to make the repair order process faster. (Service providers) will benefit from taking advantage of them."
This new technology is similar to in-house shop programs in many ways. Both allow technicians and shop managers to add information about a repair order and both constantly update the repair's status, cost and the time expected to complete the repair.
The Internet portal is the biggest advantage of the new programs. With this new technology, any information added at the repair garage is immediately available to the fleet, assuming both businesses are using the program.
Repair orders no longer need to be e-mailed or faxed, and necessary phone calls drop dramatically. The web-portal messaging system also allows instantaneous conversation between both sides, so customers can view a repair order and give orders back to the repair garage within seconds of receiving the information.
"When you post something into the portal, everyone (with access at the fleet) can see it," says Buddy Timme, senior account executive at DP solutions, another company offering the web-based software. "It isn't like making a call to one person and then having to repeat the same thing to someone else who calls. When you update the status of a (repair) in the portal, everyone on the other side can see that."
Gary Cummings is the executive vice president and COO at FleetNet America, a company that focuses on assisting fleets in finding service providers that cater to their needs in emergency situations. FleetNet must have an understanding of each repair order program to help its clients, and Cummings believes the Internet software is the future technology for tracking repairs.
Constant e-interaction has become a mainstay of our society, and Cummings says these new programs address that.
"It's all about communication and what is the right tool for getting the information out to customers," he says. "We've become such a technological society and we're used to that instant communication. We want to know fast. These portals allow you to send information out to your customer no matter where they are."