FTR Shippers' Condition Index Improves Slightly
FTR Associates' Shippers' Condition Index (SCI) as reported in the August Shippers Update edged up in June to a current reading of -3.1. The SCI sums up all market influences that affect shippers; a reading above zero suggests a favorable shipping environment, while a reading below zero is unfavorable.
Over the last three months, the index has risen from a low of -11.4 in March, indicating improving conditions for shippers as economic and freight growth slowed through late spring and early summer easing the strain on capacity and slowing the rise in rates. However, the rate of improvement in the SCI has slowed each month.
FTR is projecting the index to fall again starting with the July reading as freight demand begins to accelerate. These conditions are expected to negatively impact shippers through the balance of the year.
"Given the recent drumbeat of negative economic reports it may seem counter-intuitive to be calling for rate increases going forward," says Larry Gross, senior consultant for FTR. "But truckers have been reporting solid rate performance thus far this year even in the face of GDP growth of less than 1 percent. This indicates that freight demand and capacity are in balance."
He adds, "With truckers not adding capacity and barring an economic recession, we expect to see modest growth in the market as we enter the normal peak season, which will keep pressure on the shipping environment. Of course we are dealing with more than the usual amount of uncertainty at the moment so we will be closely watching for signs of weakness in the coming months."
PEOPLE IN THE NEWS
Following are personnel changes and announcements in the trucking industry:
* Karmak, Inc. announces the hiring of Bryan Kenser as the newest regional manager, responsible for the Illinois, Indiana and Wisconsin regions.
* Kinedyne Corporation has initiated a number of changes to its United States sales team. Among these changes is the establishment of a national OEM account manager position that will be responsible for managing the company's efforts to service OE trailer manufacturers. Assuming this new role is Scott Frazier, a veteran member of Kinedyne's U.S. sales team. The company also announced the addition of two new members to its U.S. sales team. Troy Davenport has taken over Frazier's previous position, while Robert Warren has assumed an account executive position with the team.

* Mitsubishi Electric Automotive America has promoted August (Gus) Wajda to technical support and quality assurance manager for its heavy-duty business.
* Jay Sloan has been promoted to district sales representative at TODCO. He is responsible for servicing new and existing accounts, which include truck body and trailer manufacturers, distributors and end-users. He serves the East Central Region sales territory including Ohio, Kentucky, West Virginia, eastern Michigan and the western parts of Pennsylvania and New York.

* East Manufacturing Corporation recently promoted David Kinsley to vice president of materials. In his new capacity, Kinsley will be responsible for all aspects of the materials department, including acquisition, inventory, planning, purchasing, expediting, shipping and receiving. In addition, Bill McKenzie has been promoted to director of dealer development and flatbed product manager. In addition to his current job function as flatbed product manager, McKenzie will be responsible for assisting East's North American dealer network to improve their performance, and to qualify and sign new dealers.
For the latest aftermarket news, announcements and trends, visit truckpartsandservice.com
CVSN Announces President's Recognition Award Winner
The Board of Directors of the Commercial Vehicle Solutions Network (CVSN) announced that J. Richard Schien, president and founder of Karmak, is the 2011 CVSN President's Recognition Award winner.

In announcing the winner CVSN President Tom Stewart said, "I am excited to present this year's President's Award to Richard, his knowledge of computers and the aftermarket led to widespread changes in the distribution of heavy-duty parts."
Schien had more than 20 years of experience at Schien Body & Equipment Company, the business founded by his father, John Schien, in 1948. The experience gained in his family's dump trailer manufacturing, truck parts and repair business coupled with a formal education in physics, math and computer programming provided a solid foundation for development of a computer business system designed specifically for heavy-duty truck parts distributors, truck repair shops, truck dealers and trailer dealers.
The 2011 President's Recognition Award will be given out at the CVSN Aftermarket Distribution Summit scheduled from September 18-21 at the Key Bridge Marriott in Arlington, Va. The ceremony will take place on Monday, September 19 during the Opening General Session and following the Keynote Address by former Governor of Maryland, Robert L. Ehrlich, Jr.
Trucking adds 1,300 jobs in July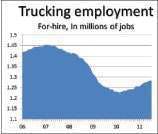 Payroll employment in the trucking industry grew for the sixth straight month in July as for-hire trucking companies added 1,300 new jobs, according to preliminary estimates released Friday, Aug. 5. Meanwhile, payroll employment for the entire U.S. economy beat analysts' expectations at 117,000 new jobs, the U.S. Department of Labor's Bureau of Labor Statistics reported.
Compared to July 2010, trucking employment is up by 43,000, or 3.5 percent. Payroll employment is up by 27,900 jobs, or 2.2 percent, in 2011 and by 56,600 jobs, or 4.6 percent, since the bottom of trucking employment in March 2010. The number of trucking jobs — 1.283 million — remains far below the peak employment in January 2007.
The BLS numbers reflect all payroll employment in for-hire trucking, but they don't include trucking-related jobs in other industries, such as a truck driver for a private fleet. Nor do the numbers reflect the total amount of hiring since they only include new jobs, not replacements for existing positions.
HDA TRUCK PRIDE ADDS TWO MEMBERS
HDA Truck Pride announces the additions of two new members, Quinte Truck and Trailer Parts and Performance Truck and Trailer, LLC.

Quinte Truck and Trailer has two locations: Kingston and Belleville, Ontario. Quinte's management team includes Keith Graham, president and CEO; Cle Smith, senior vice president; and Peter Sullivan, general manager.
HDA Truck Pride says the addition of Quinte brings a sound expansion to the group's Canadian footprint.
"Quinte Truck and Trailer has been servicing the needs of the heavy-duty trucking industry in Eastern Ontario for over 25 years. We are pleased to have them as part of the HDA Truck Pride team and look forward to enhancing our presence in their marketplace areas," says Don Reimondo, HDA Truck Pride CEO.
Performance Truck and Trailer is headquartered in Ontario, Calif., with a second location in Las Vegas. Performance's management team includes Denny Stevenson, president; Kerry Ross, general manager; and Carol Fowler, procurement officer. HDA Truck Pride says the addition of Performance Truck and Trailer enhances HDA Truck Pride's presence in the Southern California and Nevada markets.
"Performance Truck and Trailer has been in operation for six years focused on the truck, bus and motor home markets in Nevada and Southern California. Our footprint is expanding as well as our presence in a variety of niche markets, such as bus, RV and motor home. It's a pleasure to have Performance Truck and Trailer join the HDA Truck Pride team," Reimondo says.
Fuel surcharges gaining popularity in parts industry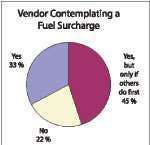 Although fuel prices have started to fall, the trucking industry may begin to see distributors implementing fuel surcharge fees to compensate for higher operating costs, in particular delivery expenses, says the business strategy consulting company nxtMove.
At present, 25 percent of heavy-duty truck parts consumers already are paying a fuel surcharge to at least one vendor.
Slightly more than half of these (13 percent) are paying a fuel surcharge to a local OE dealer for delivery of purchased product to the customer's facility.
According to nxtMove, vendors typically charge a flat rate of $2 to $4 per delivery, but some suppliers are charging customers up to $9 per delivery. Rates may fluctuate depending upon size of the customer, distance to vendor facility and frequency of purchases.
A small group of vendors have implemented "percent of purchase order" fuel surcharge programs that increase the cost of the purchase by 5 percent, on average, nxtMove adds.
According to a nxtMove study, almost 40 percent of heavy-duty truck parts customers expect a fuel surcharge will be imposed by their part suppliers within the next few months.
Some part suppliers already have developed fuel surcharge programs, but are waiting for the competition to introduce their program. The company says with the introduction of fuel surcharge programs by OE dealers and regional aftermarket parts suppliers, these programs should become more widespread over the next few months.
Horton Expands Britton, S.D., Plant
Horton, Inc. is expanding its Britton, S.D., facility by 20,000 sq. ft. The expansion will accommodate the company's growing QuickShip regional warehouse program. The construction is expected to be completed in October 2011.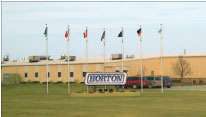 Horton's QuickShip program is said to provide fast response to customer needs for the products featured in the fast-delivery program — remanufactured fan drives, repair and conversion kits, fans and other key products.
The expanded space includes 10,000 sq. ft. for warehousing of finished product, 7,000 sq. ft. for raw-material inventory, and 3,000 sq. ft. for a driver's lounge and additional shipping bays.
"Expanding our space will allow us to stock more inventory and a more diverse inventory in support of the QuickShip warehouse program," says Steve Wardleworth, Horton's senior vice president, operations. "Getting product to our customers as fast as possible helps to ensure their trucks stay on the road and their off-highway equipment stays in service.
"The trucking and off-highway market is bouncing back from the economic recession, and we're feeling the positive effects of this recovery and are taking steps to continue to provide the excellent responsiveness and service Horton customers expect."