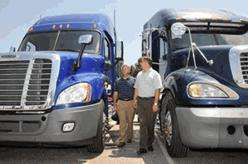 TAG Truck Center LLC, headquartered in Memphis, Tenn., has purchased Duckett Truck Center's six locations in Missouri and Kentucky for $21 million.
Paul Duckett started Duckett Truck Center in 1982 and grew into one of the busiest Freightliner dealerships in the Midwest, TAG says, serving Freightliner and Western Star customers in Poplar Bluff, Sikeston, Farmington and Jackson, Mo. as well as Calvert City Ky.
TAG Truck Center was started when Tommy Earl and Gary Dodson, then vice presidents for Barloworld Freightliner, purchased the best Barloworld had to offer in the Freightliner business, the company says. The name TAG is an acronym for Tommy and Gary.
Robby Phillips will be the vice president and general manager of all of the existing Duckett facilities and is excited about the merging of the two businesses, TAG says.
"We are looking forward to making a lot of new friends in Kentucky, Missouri and Southern Illinois," says TAG's spokesman.