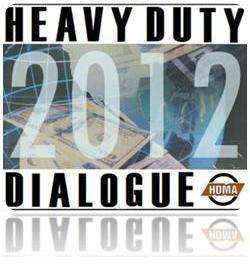 Heavy Duty Dialogue '12, a business conference for executives in the global and domestic on- and off-highway commercial vehicle industry will be held on Jan. 23, 2012 at The Mirage in Las Vegas, immediately preceding Heavy Duty Aftermarket Week '12.
According to the HDMA, Heavy Duty Dialogue's 2012 program will address several strategic areas within the global commercial vehicle industry. Topics to be discussed include the global economic landscape, considerations for manufacturing near-shoring, the global and North American truck and trailer outlook for OEM and aftermarket, the global off-highway vehicle outlook and an update on major legislative and regulatory issues in the U.S. and abroad, HDMA says, as well as a perspective on doing business in major emerging markets.
The demands of supplying the on- and off-highway OEM and aftermarket customers are creating changes and new challenges within the global commercial vehicle industry. HDMA says Heavy Duty Dialogue's content will provide the commercial vehicle suppliers and manufacturers with vital information to assist with developing strategies to prosper in what will become the industry's new norm.
Confirmed contributors include:
Dr. Jeffrey Rosensweig, director, Global Perspectives Program, Emory University
Vivek Chaand Sehgal, Motherson Industries
Eli Lustgarten, Longbow Research
David Phillips, Off-Highway Research
Kumar Saha, Frost and Sullivan
Jonathan Storey, Polk Europe
Peter Busse, AlixPartners
Ann Wilson, MEMA Government Affairs
To register for next January's event, go to https://www.hdma.org/content/heavy-duty-dialogue.