The TP&S Top 20 Products
Introducing the top 20 most requested products of 2011, as chosen by the readers of Truck Parts & Service.
The independent aftermarket continues to have access to improved products and product support literature. Understanding the latest product offerings can be a competitive advantage for a distributor, repair garage or dealer.
Many of these new products and pieces of literature were featured in the Marketplace section of Truck Parts & Service magazine throughout the year. Accompanying each item was a Reader Service Number that allowed readers to request additional information from the supplier or manufacturer.
In 1993, TP&S introduced the first Top 20 collection and we continue this tradition, in alphabetical order by manufacturer, with the most popular product and literature items featured in Truck Parts & Service magazine during 2011.
The results of our Top 20 products and literature are based solely on the number of reader inquiries each item received during 2011. Inquiries generated from advertising messages were not included in our count.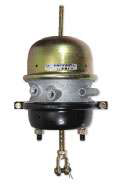 1. Bendix Launches EverSure Spring Brake
Bendix Spicer Foundation Brake LLC announced a new, next-generation double-diaphragm spring brake for drum brakes that is said to offer the lightest weight in the industry while delivering best-in-class durability and performance.
It is designed to industry-standard dimensions, making it easy to install as a replacement part in the aftermarket.
The EverSure spring brake is said to be more than two pounds lighter than competitive spring brakes. The product's lighter weight also is said to lead to the best vibration resistance in the industry.
Another key advancement in the new spring brake is the elimination of contact between compressed power spring coils, allowing the protective coating to remain intact
According to the company, the power spring was designed to avoid coil contact damage, which leads to corrosion, and ultimately spring brake failure.
BSFB also says it optimized the diaphragm geometry of the EverSure spring brake. EverSure spring brake exceeds all compliance requirements for performance and durability in original equipment use.
Bendix Spicer
Visit tpsdigital.com/info

2. Cole Hersee Introduces Wide Lens LED Rocker Switch
Cole Hersee Co. introduced its newly engineered LED Rocker Switch for trucking applications. This low current input membrane switch is compatible with microprocessor-based electrical/electronic systems and is said to offer exceptionally high visibility and durability.
The switch's wide, wraparound green and yellow colored lenses are working parts of the actuator, rather than being separate components inserted into the actuator. According to the company, this significantly increases the chance of seeing the illumination when viewed from an oblique angle, from a distance or in the bright sunlight.
The switch meets the IP66 standard, the highest level of dust and high-pressure water resistance. To meet this standard, the switch underwent a series of tests in which no ingress of dust or water occurred.
This switch will snap into standard panel holes and through custom order pilot lights for 24V switches are available , according to the company.
Cole Hersee
Visit tpsdigital.com/info

3. PreSet Plus Hub Assembly
Consolidated Metco (ConMet) introduced PreSet Plus, hub assembly. ConMet builds on the success of PreSet, its existing hub assembly, of reducing wheel end maintenance by adding features that it says make PreSet Plus the most advanced hub assembly on the market.
Features include:
* An integrated spindle nut design;
* The patent pending nut to increase clamping, improve safety and eliminate adjustments;
* An optimized bearing;
* Field serviceable components;
PreSet Plus hub assemblies are available in aluminum for lightweight solutions and in iron for non-weight sensitive applications. There are designs for steer, drive and trailer axles as well as for disc and drum brakes.
ConMet
Visit tpsdigital.com/info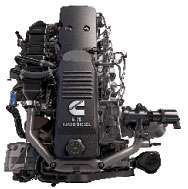 4. High Output 6.7L Turbo Diesel
Cummins Inc. announced the release of its high output 6.7L turbo diesel for Ram heavy-duty pickup trucks. This new high-output rating produces more torque to a peak of 800 lb-ft (1,085 N•m).
With 800 lb-ft of torque at 1600 rpm, power is increased across a wide speed range of 1200-2700 rpm. This delivers up to 46 additional hp at typical highway cruising speeds while maintaining 350 horsepower at 3000 rpm, the company says.
The engines will be available in Ram heavy-duty pickup trucks with the automatic transmission option.
Along with the new 800 lb-ft torque rating, the Cummins 6.7L turbo diesel offers an integrated exhaust brake, with a full 222 braking horsepower at the wheel.
Cummins Inc.
Visit tpsdigital.com/info

5. HVAC seat-based system introduced
Delphi has released a new HVAC seat-based system. The system is part of Delphi's E3 seat, and combines Delphi's Diavia application capability with the Cobo group's steering column, seat, lighting and electronic devices.
According to Delphi, the E3 HVAC system has a cooling capacity of 6.2 kW and a heating capacity of 5.8 kW and can provide climate controls for the cab only or cab and seat cushion. The E3's control unit is located inside the seat arm.
Delphi
Visit tpsdigital.com/info

6. Auxiliary Electric Heaters Introduced
Dometic has introduced a new auxiliary electric heater for vehicles needing extra heat in very cold climates.
The new electric modules are available in 2.5 or 4.0 kW sizes, and each module uses multiple heater coils with a two-stage heating control to provide temperature control and energy efficiency.
The heaters also comes with a Qt electronic control, which the company says automatically throttles back heat and power consumption as inside air approaches set-point temperature.
Dometic
Visit tpsdigital.com/info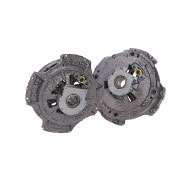 7. Eaton Expands Aftermarket Portfolio
Eaton Corp. launched a new brand of drivetrain components engineered specifically for the aftermarket. The new lineup, known as EverTough, provides aftermarket customers with the balance of price and performance to meet their replacement part needs, the company says.
The initial EverTough offering is a new line of heavy-duty clutches.
To ensure the EverTough clutches have reliability and durability at a competitive aftermarket price, Eaton has designed the clutch with an aftermarket-specific facing, a release system with standard dual zerk fittings and dampeners to meet the torsional vibration needs of the aftermarket. In addition, lube intervals are set at 25,000 miles to reduce maintenance costs.
With torque ratings available up to 2,050 ft-lb the clutches are available in both 14-in. and 15.5-in. heavy-­duty designs for all makes of diesel-­powered commercial trucks. Additionally, the clutches include a one-year unlimited mileage warranty.
Eaton Corporation
Visit tpsdigital.com/info

8. Fontaine Releases Fifth Wheel Video Ever Sure Spring Brake
Fontaine Fifth Wheel has released a safety video and brochure outlining the proper uses for its newest fifth wheel products — the Ultra LT, Ultra HD and Ultra HR. The video runs eight and half minutes and features live-action demonstrations for each step of the coupling and uncoupling process. The brochure has photos and instructions.
The Ultra family of fifth wheels uses a patented lock design that requires specific coupling, sliding and uncoupling procedures.
Fontaine Fifth Wheel
Visit tpsdigital.com/info

9. New All-In-One Parts Washer Resource Catalog
Graymills' Selecting the right parts washer and Choosing your cleaning action introduce you to information and helpful tips in the parts washer/cleaning fluid selection process.
The catalogs display the full line of aqueous, solvent, ultrasonic and bioremediation parts washing equipment available from Graymills. Parts washer features and specifications, including a cleaning fluid reference chart for identifying specific applications, are included.
Graymills
Visit tpsdigital.com/info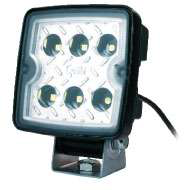 10. Cube Work Lamp Available
Grote Industries introduced its new 4-in.-by-4-in. Trilliant Cube LED WhiteLight Work Lamp. The lamp is the newest member of Grote's Trilliant LED WhiteLight Work Lamp Portfolio. It was specifically designed to fit a 4-in. (10 cm) square format.
The lamp has a service rating in the range of 50,000 hours and features two beam patterns. Grote says it has further refined its wide flood pattern to produce a more penetrating beam that reaches farther.
The lamp comes in three versions, each with a unique connector style. The female receptacle on the back of the first version of the lamp accommodates the AMP connector style, the second version of the lamp features an AMP Superseal connector style, while the third version supports the Deutsch two-pin sealed connector.
The Trilliant Cube LED WhiteLight Work Lamp operates on both 12-Volt and 24-Volt systems.
Grote Industries
Visit tpsdigital.com/info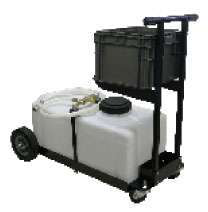 11. New Engine Coolant Tool Introduced
K-Line Industries has released its new Coolant Management Tool. According to K-Line, the new tool drains, pressure tests and refills coolant systems cleanly and efficiently, saving time and minimizing costs. The K-Line tool is said to eliminate coolant air pockets, prevent the mixing of unwanted coolants and contribute to green shop initiatives.
The Coolant Management Tool has a 20-gallon tank and cart assembly on wheels, a coolant reservoir cap adapter, a vacuum module and a pressure module.
To use the tool attach it to the truck cooling system. Clean, dry shop air is used to "blow" coolant out of system and into the 20-gallon tank. With the system empty, the necessary repairs can be made and pressure checked before the cooling system is refilled.
The coolant is then replaced into the system using the vacuum module to draw coolant back into the tank reducing or eliminating air pockets. With the coolant captured within the Coolant Management Tool throughout the procedure, K-Line says there are virtually no spills, no waste and no chance of mixing coolant types.
K-Line Industries
Visit tpsdigital.com/info
12. Pre-Assembled Wire Harness Kits Catalog
Phillips Industries has released a new trailer harness catalog listing its new series of STA-DRY sealed harnesses. With the recent expansion of its Phillips Electrical Harness Division facility, the company now is producing pre-assembled, "plug n' play" sealed wire harness kits for many trailer applications with short lead times at competitive costs.
The catalog, arranges wire harnesses by trailer type to simplify selecting the right product for the right application.
Phillips trailer harnesses are built to withstand the most extreme environmental conditions, protected against moisture, corrosion and failure, according to the company. Molded material on all plugs bond to cables and molded connections to keep moisture and contaminants from penetrating the electrical system.
Phillips Industries
Visit tpsdigital.com/info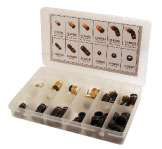 13. Air Fittings Kits
Phillips Industries has put together two new combination kits holding its most popular Qwik-Fit Push-to-Connect Composite Air Fittings. Each kit contains a collection of male connectors, straight unions, 45 degree male elbows and dust boots in various sizes.
The parts are assembled in containers that keep them secure and in one place.
The 80-1291 Travel Kit measuring 6 ½ in. x 10 ½ in. contains 48 pieces and the 12 in. x 18 in. Shop Kit contains 110 pieces.
Phillips Industries
Visit tpsdigital.com/o

14. Fleet Tire Digest Published As Spiral Bound Book
Pressure Systems International is now offering a full set of Volume IV Commercial Fleet Tire Digest issues as a spiral bound book. The Commercial Fleet Tire Digest is published 11 times per year and is said to be a comprehensive and authoritative guide to reducing tire expenditures. Every issue discusses a subject of particular interest to fleet operators and other concerned with tire safety, wear and costs.
Separate books for previous years also are available by request. Books can be ordered and past issues of the Commercial Fleet Tire Digest can be viewed and downloaded at http://www.psitiredigest.com/archive.
Pressure Systems International
Visit tpsdigital.com/info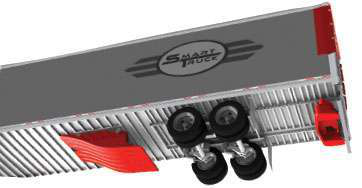 15. Improved Trailer Aerodynamics System
SmartTruck has introduced the second generation of its UT-6 Trailer UnderTray System.
According to the company, the new UT-6 UnderTray System includes redesigned components that are higher off the ground and allow the sled to be independent of the suspension system. The redesigned system also reduces the size of the rear diffuser, allowing the suspension system to travel to the full rearward position.
The redesigned components, along with a more universal hardware package, are said to combine for easier installation on a wide range of trailer models, cutting installation time to less than two shop hours per system.
Along with increased fuel efficiency, a secondary benefit of the system is cooler operating temperatures around the brake, tire and wheel assemblies due to increased airflow under the trailer, the company says.
SmartTruck
Visit tpsdigital.com/info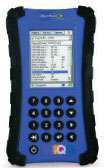 16. Handheld Diagnostic Tool
The new Blue-Point Pocket iQ (EEHD181030S) is a handheld diagnostic tool that can be used for all commercial vehicles from light-duty to Class 8 trucks.
Powered by Nexiq, this scan tool claims to be a productivity and efficiency enhancer.
Features and benefits include:
* For medium- and heavy-duty trucks: reads active fault codes; reads and clears inactive fault codes; monitors
J1708 and J1939 engine, brake and transmission data;
* For light-duty trucks: reads active fault codes; reads and clears inactive fault codes; monitors OBD II engine data;
* Reporting tools enable technicians to save vehicle diagnostic and fleet performance information in PDF or text format. Reports can be printed to a standard PCL3 printer or to a memory stick; and
* Port allows for future updates/upgrades and provides the ability to download reports to a memory stick.
Snap-On
Visit tpsdigital.com/info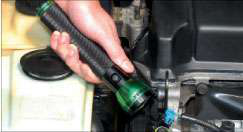 17. New Leak Detection Flashlight Tool
Tracer Products has unveiled the new Tracerline TP-8690 OptiMax 3000, a portable, blue light LED fluorescent leak detection flashlight. With its focused beam, the unit is said to make it easier to find air-conditioning and fluid leaks. Technicians can pinpoint all leaks the first time and avoid comebacks due to undetected leaks, according to the company.
The OptiMax 3000 uses super-hi-flux LED technology to deliver 15 times brighter leak detection light than regular LED lamps, the company states. Its power equals that of 150-watt lamps and it has an inspection range of 20 ft. (6.1 m) or more. Powered by a rechargeable NiMH battery, the unit has an LED lifetime of 50,000 hours.
The flashlight also comes with fluorescence-enhancing glasses and an AC battery charger. A DC charger can be purchased as an accessory.
Tracer Products
Visit tpsdigital.com/info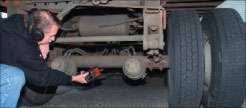 18. Ultrasonic Diagnostic Tool
Tracer Products has introduced the Tracerline Marksman ultrasonic diagnostic tool, an instrument that Tracer claims converts and amplifies inaudible ultrasonic sound into audible "natural" sound.
According to Tracer, the Marksman can hear sounds that signify problems such as air brake leaks, gear and bearing wear, as well as vacuum, EVAP system, exhaust refrigerant and passenger compartment leaks.
The Marksman uses a two-tiered process to ensure accurate diagnosis. First, Tracer says the receiver unit converts inaudible sound into audible sound. Then, the receiver's sound signal technology fine-tunes the audible sound into the natural sound emitted by the defect itself. A 10-bar LED display indicates the intensity of incoming signals from the problem source to ensure error-free diagnosis, according to the company.
The kit comes with a receiver, full-sized headphones, two anodized probes and an ultrasonic emitter. Standard 9-volt alkaline batteries are included for both the receiver and the emitter.
Tracer Products
Visit tpsdigital.com/info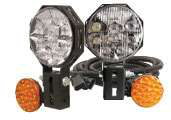 19. Snow Plow Kits Improves Visibility
Truck-Lite announced the release of its new LED Snow Plow Kit.
The LED kit not only improves overall visibility for the vehicles plowing busy roads and highways, but the lamps also are highly visible by oncoming traffic, according to the company.
Truck-Lite's LED snow plow kit, part number 80863, is comprised of a right- and left-hand lamp assembly as well as appropriate harness.
Each right/left lamp assembly includes an LED headlamp, bracket and pedestal turn signal lamp.
Truck-Lite
Visit tpsdigital.com/info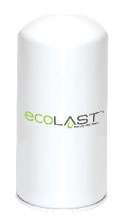 20. Wix Filters Releases Filter To Double Oil Life
Wix Filters, a member of the Affinia Group, has released a new filter designed to double engine oil life. The new product, named ecoLAST, is designed to slow acid releasing inside the filter and improve anti-oxidant, anti-wear features in the oil for the life of the filter, the company says.
The company also says the ecoLAST oil filter could save fleets more than $125 per truck per year.
According to Wix, the ecoLAST filter is designed to capture dirt and soot like a traditional filter, but also features a new technology designed to sequester acids in the oil. By sequestering the acids, the ecoLAST filter allows a heavy-duty truck to go twice as far on a single change of oil, the company says.
The average heavy-duty truck drives 80,000 miles and requires four oil changes per year. According to Wix, the ecoLAST is capable of cutting those four oil changes (and the corresponding costs), in half.
Wix Filters
Visit tpsdigital.com/info