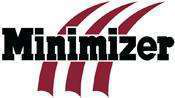 The Commercial Vehicle Solutions Network (CVSN) has showcased Minimizer's commitment to its distributor network as a part of its CVSN Insider Aftermarket News blog.
According to Minimizer, the article focuses on the strategic partnership Minimizer has formed with CVSN.
"Minimizer's success has been built on a bedrock foundation of a strong distributor network," says Steve Hansen, Minimizer national accounts manager. "Joining CVSN as one of their heavy-duty aftermarket supplier partners has proven to be a good investment for us."
Minimizer says it also attends the CVSN Summit each year. The Summit provides a productive meeting venue and allows for both formal and informal face-time with important distributors, which has resulted in new partnerships and business, the company says.
"We leverage the valuable private strategic planning sessions and round table discussions where we receive valuable feedback from industry leaders," says Hansen. "We believe this past show was the most important meeting this year in the heavy-duty aftermarket industry. CVSN is a terrific investment for the future of our business."