It's important to examine how service would fit into your business before expanding.
Running a successful parts distribution business in this era is challenging. The aftermarket is constantly changing, and as it evolves so do common business models and strategies.
One growth strategy gaining prominence is distributors adding a service component to their offerings. By adding service, distributors can add another revenue stream and potentially create a larger customer base.
But adding service is not an easy task. Any business expansion includes risk, and entering the service business without the proper expertise can spell disaster.
For a distributor who's trying to decide if service is right for his company, it's important to understand the risks and rewards before making the leap.
You have to do your homework. The service business is too difficult to enter unprepared.
The biggest benefit of adding service is the creation of an additional revenue stream, says Bill Wade of Wade & Partners.
"It's another way to make money," he says. "With the viciousness of the economic cycle, there's been a collapse of the number of service bays in existence. There aren't as many places providing service as there were four or five years ago.
"A (distributor) only selling parts is missing out on a chance to capitalize on that."
At Point Spring & Driveshaft, offering service has been the status quo for nearly 80 years.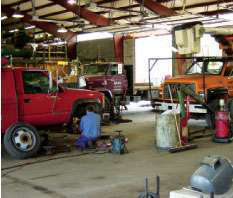 "Our company has been around since 1926, and we've offered some type of service since we opened," says Adam Diecks, the company's marketing manager. "As our product offerings have increased so has our service."
Diecks says Point Spring currently provides service on everything from "suspensions on down." He says the company's business plan is simple: anything its bench service technicians can remanufacture they can install.
"I think service strengthens our relationship with our customers because we can provide more," Diecks says. "It allows us to do more business with them."
Wade says that additional revenue stream could become increasingly important with continuing growth of online parts websites.
"Did you know this year Amazon.com will ship more than $1 billion in automotive parts?" he says. "That's what's coming for heavy-duty distributors. That market is growing. There's no reason to believe smart guys in the heavy-duty industry won't start to sell parts the same way."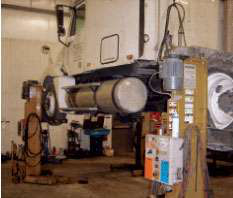 Wade fears distributors unable to capitalize on web sales will need to move toward service as a way to offset losses. The service business is immune to the online threat, and having a service bay available to install a new part gives a distributor a much needed leg up against its online and non-service competitors, he says.
Providing service also allows a parts distributor to improve sales margins by controlling the flow of parts through its business.
"If a customer comes to me and wants to rebuild his own transmission we can sell him the parts and there's a margin on that," says Lou Dimaria, service director at TransAxle. "But if he comes in and has us do it for him, there's a lot bigger margin because of the service work and the labor.
"Sure, I have a warranty hanging over me, but if the service is done right the margin will be a lot higher."
Although Carolina Rim & Wheel stopped providing service nearly 20 years ago after it lost several key employees, Tom Stewart, company president, agrees with Dimarla.
"Service shops can be a good thing if you are in that business," he says. "It's hard to be competitive just selling parts. With a service shops you can sell (parts) at higher margins, and you have a leg up on distributors because you can sell a part and install it."
Providing service also allows a distributor the rare opportunity to work side-by-side with its customers and competitors to complete repairs.
At TransAxle, Dimaria says his company regularly does work for other area service providers.
"Our (distribution) customers know we have a service shop and they know we do repairs," he says. "We specialize in drivelines, so maybe if a smaller shop gets in some driveline work, or something they aren't very familiar with, they will send it to us."
Diecks says Point Spring has a similar agreement with its customers.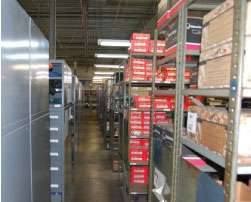 "We want our outside sales guys to sell parts and service," he says. "When they are out on calls, we want them to say 'If you are ever stuck on a repair, you can give us a call. We can do the work, too.'"
That type of teamwork is a great way to build business relationships, says Mark Willis, business development manager at HDA Truck Pride.
"Business is all about relationships," he says. "When it comes to trading work, you are not a competitor as much as someone who is sympathetic to their needs. If (customers) come to you and you help them that strengthens your relationship moving forward."
In spite of its benefits, it's important to remember adding service comes with risks.
One of the biggest issues distributors face in adding service is finding the right employees to make a service department work.
Opening a service shop is not something you do on a whim, says John Ferry, vice president at TransAxle, you have to have the right people in the right place to make money.
"I really don't think it's for everybody," he says. "Unless you are committed to getting involved and making sure you hire the right people who will make it work you won't be successful.
"(Service) is a people business, and you have to hire people who understand it and know what it takes over the long term."
Dimaria agrees, and says when TransAxle hires a new service employee it makes sure to find an experienced and knowledgeable candidate.
Wade says that's the only way to go, because learning on the job in the service business is too risky.
"Managing a service shop is a lot different than managing a parts store," he says.
A service manager has to understand a shop's infrastructure, how to manage and provide parts to technicians and the legal requirements and regulations for keeping a service facility in business.
Another major issue when adding service is the capital investment needed to open a service department. Service can be added to a distributor's current location or it can be added by purchasing an existing service facility. The latter is the much more common route.
To operate a successful service operation, a distributor must set aside space in his facility for service work — either bench or bay service — and bring in workshop equipment necessary to complete repairs. He also must supply his new staff with a full range of tools and parts and make sure there are customers.
"You certainly can add (service), but buying a ringing cash register is a lot easier," says Mark Willis. "If you buy an existing location, you're buying an account list. That location already has customers; it has business.
"Trying to add service to your business without that customer base is a lot harder."
"If I made a decision to get into service work now, the only way I would do it would be to buy an existing shop," says Stewart. "To Greenfield one would be very, very difficult."
Insurance to cover the requisite investment in facilities, equipment and employees also is a factor that needs to be taken into account when adding service.
Wade says adding more comprehensive coverage to your insurance plan as your business expands is common knowledge, but he cautions business owners to make sure to add that coverage before expanding, not afterward.
"You have to have your entire infrastructure in place first," he says.
Another reason to be cautious about entering the service business is that you do not want it to take away from your company's biggest strengths.
With 10 locations covering the mid-Atlantic region, CRW Parts provides both heavy-duty and automotive parts.
Dave Willis, president and CEO, says his company already has a footprint in two markets, and says adding service to his existing locations could detract from what CRW does best: selling and distributing parts.
"The people who come to us (for parts) know they are getting a quality product and they know the kind of company we are," he says. "We try to focus on that, and try to be the best we can at what we do."
Stewart says Carolina Rim & Wheel does the same thing. There may be an opportunity for growth in service and he says his company may one day investigate that; but at this point he says the company's goal is to remain an expert in its current field.
"We think we do a very good job providing parts and other services to our customers," he says. "We try to provide as much technical information as we can to our customers, and we do whatever we can to build our relationships with them."
How to maintain strong business relationships with customers is another thing to investigate when adding service to your parts distribution business.
For an established parts distributor with a solid customer base, adding service could turn customers into competitors and strain the relationship.
"I think with our customers there's a bond of trust that has developed between us," says Dave Willis. "They know we are there to serve them and we're not competing for any business, so I think that allows them to trust us a little more."
But how a distributor enters the service business is also a factor. A distributor who starts providing specific bench service will be viewed differently than one who opens or buys a service shop down the block from a customer.
Mark Willis says every customer will handle that situation differently. He believes the way a distributor interacts with a customer after adding service usually is the deciding factor in maintaining a positive relationship.
"I believe (a distributor) can become a better distributor to his own customers when he adds service," he says. "Once you enter the service business, you can gain a better understanding of the needs of your customers and have a better understanding of how you can cater to them."
With a balanced list of pros and cons for adding service, industry veterans are mixed on the direction distributors should take moving forward.
Wade believes adding service will become a must as online parts sales continue to invade the heavy-duty market.
He says the benefits service provides in creating another revenue stream is enough to overcome the risks that come with expansion.
"I would definitely counsel people to jump at the chance," Wade says. "I haven't talked to one guy who has gotten into (service) who hasn't said 'I wish I got into this 10 years ago.'"
TransAxle's Ferry also believes adding service gives the independent distributor another opportunity for business in its ongoing competition against dealer networks.
"I think anything that independents can offer to keep customers from gravitating to a dealer is good for us," he says.
Dave Willis understands those sentiments, but says he doesn't think every distributor needs to provide service right now to remain successful. CRW Parts has expanded recently without the benefit of adding service and he says it has remained very profitable.
"If you are good at something and know what you're doing; you can stick around," he says.
But Willis knows CRW won't maintain the status quo forever. He says knowing when to evolve is what sets a good business apart.
"The people who stick around long enough get into the things they need to get into when they need to get into them," he says.
WHAT SERVICE TO ADD?
The first step for a distributor looking into service is examining the types of service his business can provide and deciding if one is right for his operation, says Bill Wade of Wade & Partners.
Opening service bays isn't a distributor's only option. "There are four types of service," says Wade, "and all four are separate in their own way."
Shop-Style Service
The most recognizable type of service, shop-style,―features service bays and a staff of technicians.
Distributors can add shop-style service by buying ongoing service locations and adding them to their business, or by adding a service department to one of their existing facilities.
One benefit to adding shop-style service is it allows distributors to install parts and perform on-vehicle repairs.
Bench Service
Bench service occurs when a customer brings a part or system to a distributor to be remanufactured or repaired.
A bench-service operation requires less space than shop-style service with less overhead costs.
Some distributors who offer bench service focus on specific areas of heavy-duty trucks or have areas of expertise.
On-Road Service
Investing in a fleet of tow trucks is one way to provide on-road service.
Some companies that provide on-road service also provide shop-style service, but a distributor does not need service locations to enter the on-road service business.
By providing on-road service, a distributor can tow vehicles to its bays or to the customer's location — increasing part sales.
Mobile Service
Mobile service is a way to offer preventive maintenance for fleet customers.
A distributor can add mobile service by outfitting a truck that goes to fleets on a regular basis and performs maintenance checks and making small repairs as necessary.
When larger issues are uncovered, a mobile service distributor can provide parts and/or service to the fleet.