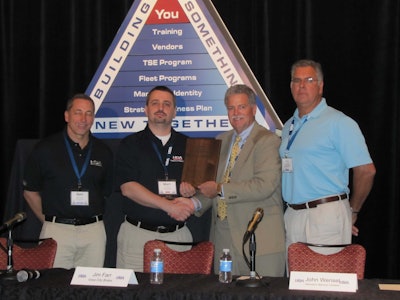 HDA Truck Pride's Truck Service Experts program has named Bauer Truck Repair in Shippenville, Pa. as its 2011 Truck Service Expert of the Year. The award was presented to Matt Bauer at the HDA Truck Pride's annual membership meeting.
HDA Truck Pride's TSE program features more than 400 independent repair facilities across the U.S. and Canada. The program is said to provide unified identification, business and ancillary services, national product warranty and training.
"Bauer Truck Repair became a Truck Service Expert in 2007 and five years later has become an exemplary model of the TSE Program," says Mark Willis, HDA Truck Pride Business Development Manager. "It was an honor to have Matt join us, our members and vendors, throughout our entire annual membership event."
Bauer Truck Repair was established in 1981 by Randy Bauer in Venus, Pa. In 2011, the company moved for the third time into a large, state-of- the-art facility in Shippenville, Pa.
Bauer Truck Repair services all makes and models of vehicles including medium-duty, motor homes, vocational equipment, Class 8 vehicles and trailers. Bauer's current facility has a 26,000 sq. ft. shop with 15 bays and a parts showroom. The company offers 24-hour towing, road service and recovery services. Bauer also offers load transfer services on site or with its own cross loading docks.