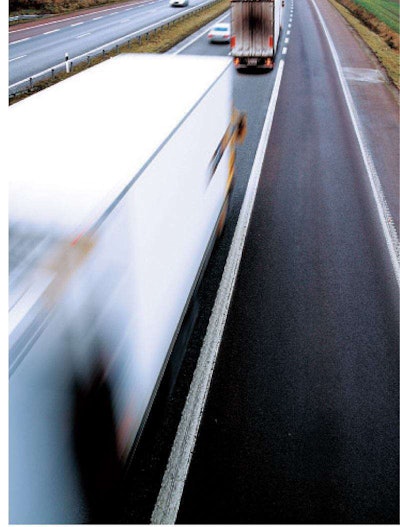 A variety of factors influence a fleet's decision about where to get its vehicles maintained and repaired. The service provider best able to take away the fleet manager's headaches will win the business.
By Denise L. Rondini, Executive Editor
If you ask fleet maintenance mangers what they value most in a service provider you'll get several answers. But you'll also notice one stands out from the rest. That one is uptime.
According to a recent survey conducted by Commercial Carrier Journal (sister publication to Truck Parts & Service), 43.4 percent of fleets list uptime as the most important factor in choosing an outside service provider, assuming repair quality was not an issue. That is up from the 35.5 percent of fleets who responded to a similar survey in 2010.
Only 20.3 percent cited the cost of the repair as the most important factor in choosing an outside service provider, down from 24.6 percent in 2010.
Stu MacKay, president of MacKay & Co., says his experience with fleets shows they prefer to outsource more of their service work. "But in many cases, they end up actually bringing more work in house."
Perhaps this anonymous fleet manager said it best, "Regardless of price, when my trucks don't run, I lose money, my drivers lose money and my customers are not satisfied. Turnaround time must be quick, less than 48 hours."
Itamar Levine, director of technical fleet sales for Hendrickson, says, "Fleets are telling us that equipment downtime affects them in many different ways. It affects their customers because downtime will result in late deliveries. It also has a great impact on the driver, who is a great asset today to the fleet."
In addition, equipment downtime affects dispatch because it prevents the fleet from meeting its utilization goals, he adds.
Dick Hyatt, CEO of Decisiv, says downtime is expensive and runs between $80 and $100 an hour for fleets. "You can see why getting the truck up and moving is [the fleet's] number one goal," he says.
Other factors fleets take into account when choosing a service provider include the service provider's reputation, its location, its affiliation with a particular truck manufacturer and its ability to communicate with the fleet throughout the repair process, the CCJ survey indicates.
Together these factors are used by fleets in evaluating which service providers to do business with. The higher you rank in each category, the stronger your business will appear and the more likely you are to capture fleet repair business.
According to Brian Mulshine, director of field service and marketing for Navistar, there are three deadly sins service providers commit: they take too long, charge too much and don't communicate throughout the repair process.
Mulshine says fleets will go out of their way to take their vehicles to a service provider who can avoid these sins — which means you better not commit them.
Assess Quickly, Have The Parts
When the surveyed fleets were asked what their biggest problem areas are with outsourced repairs at truck dealerships, 70.3 percent listed the ability to get the vehicle in for service in a timely manner as their number one problem.
Independents are not doing much better in this area with 68.4 percent of survey respondents also citing the ability to get a vehicle in for service in a timely manner as their number one problem.
While this quest for uptime might seem new, industry experts say fleets always have been concerned about quick turnaround time for repairs. Mark Martincic, professional advisor, KEA Advisors, says today's economic conditions are forcing fleets to be more focused on uptime.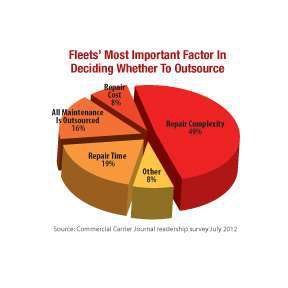 "Business has become more and more competitive and the fleets have become more sophisticated with tracking downtime," he says.
MacKay concurs, and adds, "The challenge for fleets is to find a network of service-focused businesses that really can take care of the fleet and provide a quality repair quickly and at a reasonable cost."
Once in a bay, the length of time to diagnose a problem also is a major concern for fleets, with 45.8 percent listing it as the second biggest problem they face with truck dealers and 50.9 percent saying the same thing about independents.
To address the problem of faster diagnosis some service providers have taken a triage approach in their shops. This entails setting aside one or more bays for diagnosing trucks quickly when they are brought in for service.
Theoretically, this allows the service provider to give the fleet a better idea of what is wrong with the vehicle and tell them how long the repair will take. It does not, however, necessarily help with getting the repair itself performed more rapidly.
Kenneth Calhoun, vice president of customer relations, Truck Centers of Arkansas, says it is up to the service provider "to reduce the time [the fleet] is with us to get it as close to actual wrench time as possible."
And he thinks this process, known as rapid repair assessment, helps. "We actually are gaining significant ground with this because rather than diagnostic work being done by the next available tech, who may or may not be skilled at that particular problem, we are getting diagnosis knocked out early on by somebody we have a lot of confidence in."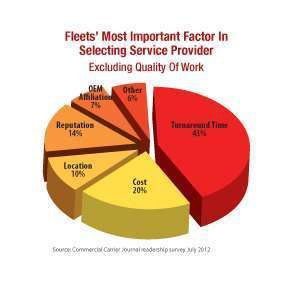 In addition, once a problem is identified, the repair can be assigned to the technician with the best skill set for that problem.
Levine says it is important to remember that there are two categories of downtime. "There is wait for the shop time and there is in-shop time." The two combine to equal total downtime.
"Most of the efficiencies come from how you manage the wait for shop downtime — how much time the equipment stands out in the yard before there is a bay and a technician available. Once the vehicle is in the shop, there is not a lot you can do to improve efficiencies," he adds.
Another thing that often holds up a repair is the availability of the proper parts to complete the repair. Steve Stich, owner of Wheelco, says he has noticed that "some of our fleets are not stocking as much as they used to, therefore we are getting smaller orders, which means an increase in the frequency of deliveries."
Jim Pennig, vice president of business development for VIPAR Heavy Duty adds, "Fleets have realized their money is made hauling freight, picking up garbage, etc. They don't want to carry inventory; they would rather invest in equipment and manpower. They would rather partner with a good distributor who they know is going to have quality product and is going to help them remain competitive," he says.
The proliferation of engine changes also is putting additional pressure on fleets, distributors and service providers to manage their inventory more effectively.
According to Toby Harris, vice president of sales and marketing for Fontaine Parts Connection, "The cost of carrying inventory is high. With all the recent engine changes, you have to have additional parts on the shelf. Every few years we have an engine change because of emissions requirements, and that increases the number of parts that need to be available."
"We have had to get a lot smarter and rethink how we address our inventory," Calhoun says. "We need to get better at predicting what fleets are going to need and what they are going to have on hand so we know what we need to carry."
Another advantage of a rapid repair assessment program is that it allows the service provider to know which parts are needed for each repair. "If you do triage, you get a diagnosis and even if the truck has to sit outside for 48 hours before it gets serviced, parts can be ordered and will be available when the truck gets into a bay," Levine says.
A Failure To Communicate
Another cause of frustration for a fleet is having a truck in a shop and having no idea how the repair is progressing.
"Solid communication with the customer is lacking at most [shops]. It's frustrating when you can't get an estimate in a timely manner or an update on the status of your equipment. It shouldn't be the customer having to make all the calls to get answers and updates," one survey respondent says.
Martincic says often service advisors don't want to call fleets to keep them up to date because they have bad news to deliver. "As hard as it is to deliver a message to a customer that his truck is going to be in the shop for a week when it is only a two-day repair, they need to know that to run their businesses."
Hyatt concurs, "The more timely the communication, the more detailed the communication, the greater the chance [the service provider] is going to keep his promise to the fleet."
Calhoun says the telephone is the biggest limiter in communicating with fleets.
"It is a fast-paced world where everything should move at lightning speed and the phone is the clumsiest way to handle things."
There currently are new systems that can be used to help a fleet manage its service experience and can lead to the service provider adding value to the service experience.
"If I, as the fleet, can see all the information that has been posted about the repair and then communicate back to the service location in an interactive and on an on-going basis throughout the service event, that is something compelling," Hyatt says
Doing things electronically means everything is documented, which can help resolve conflicts that may arise. In addition, automated systems also allow the service provider to understand what is needed for approvals, which can improve the speed of the repair process.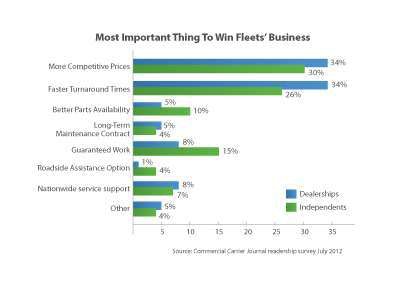 Mike Delaney, president and CEO of WheelTime, says, "[Without automation] it could typically take a day or two to get an approval. We saw that drop to 10 to 20 minutes using automation. If you use the modern tools that are available, you can take a lot of time out of the process."
Calhoun says, "I think the people who figure out a way to let their customers look into the process live and see real time what is going on in a format they can understand and decipher, and that makes sense, are going to be the ones who comes out on top in this equation."
Looking For More
As trucks continue to get more complex, fleets have higher expectations of their service providers. Bill McCouch, vice president of business development for AmeriQuest Transportation Services, believes fleets want more than a buy-sell relationship.
"You have to be able to consult, which means you have to do your research on the customer and be interested in his business," he says.
"In the consultative style, the [service provider] helps the [fleet] identify his or her specific needs and suggests products or services that meet those needs at the right price point."
Another trend that Delaney sees is fleets reducing the number of suppliers they work with.
"Complexity costs them money and when you have many suppliers all doing things their own way, you have to deal with that from a back-room standpoint in ways you don't have to deal with in your own shops," he says. Standardization of processes results in simplicity, improved speed and cost reductions.
Scott Goostree, senior vice president of Truck Parts & Equipment, adds, "I think [fleets] are looking for the complete package. They would all love to be able to buy from one source if possible."
Pennig says fleets are looking for supplier-partners "who can cover their footprint with maintenance locations, and can guarantee pricing at all locations."
He adds, "As they become more sophisticated in their operating systems, they are looking for supplier-partners who can map to those operating systems and who can provide detailed reporting."
Calhoun says service providers who want to capture more fleet business have to focus on driving waste out of the equation.
"How do we take all the excess steps and all of the excess time that doesn't actually add any value and get rid of it? How do we get to a point where the actions we are taking are either truly repairing the vehicle or truly providing information, and then strip away and throw away anything else that is not contributing to the process?"
It is likely that the struggle between what fleets want and what service providers are delivering will continue for some time. As the price of new vehicles goes up, more fleets are keeping their vehicles longer, which usually means more maintenance and repair work.
"A number of fleets are finding out that the equipment they have is working pretty well, and that it would cost a lot of money to replace it," MacKay says. He believes we are going to see trade cycles shift from 36 months to 48 months, and that spells good news for service providers if they can give fleets what they want. ■
Editor's Note: Lucas Deal also contributed to this article.
One Dealer's Solutions
Service providers are trying to find ways to get their fleet customers' trucks in and out of their shops as quickly as possible, but Southwest International has gone one step further. It is taking service to its customers.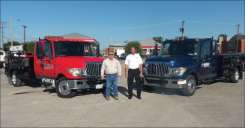 The dealership has maintained a fleet of service trucks for many years, but since 2000 it has been assigning service trucks to specific fleet customers. Currently the dealership has 19 such trucks staffed with Class A technicians who work with their assigned fleets.
"We domicile these service trucks at fleet locations," says Keith Kirby, operations manager. "This is convenient for the fleets because they don't have to worry about getting drivers to take the trucks to our dealerships."
According to Kirby, the trucks are outfitted with almost everything a technician would have in one of Southwest International's shop.
"He has a laptop. He has programming capabilities. He is able to diagnose any piece of the truck."
The only thing the technicians can't do on site is remove a cylinder head or perform any kind of engine repair.
"We bring those into the shop for a couple of reasons. I don't want [the technician] to open an engine up in a parking lot and I don't want to tie these technicians up doing major repairs," Kirby says.
"I want them working on keeping the trucks on the road; on doing those jobs that the service truck was designed to do," he says. The trucks were not designed for heavy engine work, clutch work or rear ends.
Kirby says the dealership made the decision to staff the trucks with Class A technicians "because we want to provide our customers with high quality service. When we do a repair on site, the vehicle is repaired in the same manner it would be repaired in our shops."
Reaction to the program has been positive, he says. Kirby says using the dedicated fleet service vehicles has allowed the dealership to take a customer with an average downtime of 4.5 days with its fleet of International ProStars, down to two days of downtime.
While the service trucks were initially set up to service ProStars, Kirby says a side benefit for the dealership has been gaining additional work from the fleet on other brands of trucks.
"Fleet managers are very busy and if they can just hand the ball off to our guys and let them handle it they would rather do that. They have confidence in the work we do."
Fleets Speak
By Lucas Deal, Associate Editor lucasdeal@randallreilly.com
All fleets require different levels of service, and fleets take a lot of factors into account when choosing, and using, outside service providers.
J. Ward Best, vice president at Atlantic Bulk Carrier Corp., says his company performs routine maintenance on its trucks at its headquarters but outsources vehicle service when it is needed at its remote locations.
In those cases, Atlantic Bulk Carrier tries to use the same vendors every time. The company tries to build "long-term relationships with our vendors and tries to avoid a lot of the problems that you see [in a service provider-fleet relationship]," Best says. "It is advantageous for us, and we hope it is for them as well."
The Wendel Companies tries to build similar relationships with its vendors, but the large fleet still performs 95 percent of its maintenance in house, says John Dolce, fleet specialist.
"We have a series of independent vendors along our interstate routes, and we establish accounts with them. When we do that they agree to service us 24/7 for the repairs we send to them."
Dolce says almost all of those repairs are related to breakdowns, such as flat tires, running out of fuel, driveline damages, etc. "Some of those vendors may never do a repair for us. But we still have them in our network as an option," he says.
Bob Hamilton, director of maintenance at Bozzuto's Inc., says his fleet performs all of its preventive maintenance and makes breakdown repairs, too. He says the 230-tractor operation has a strong enough maintenance infrastructure to service its vehicles on its own, and only outsources paint and body work.
Hamilton says it's the logical decision for the fleet. Bozzuto's has the resources, so it makes sense to use them. "No one knows our fleet better than ourselves. We have 47 people in our [service] department, and we know our trucks better than other service providers," he says.
Jim's Truck Center owner Jim Wilson knows his trucks well, too, but the small tow-truck operation still outsources major repairs. Wilson says there is only so much maintenance he can do alone, so when a truck needs a major repair he will send it to his local independent service provider.
He says he never likes taking a truck in for repairs, but a business partnership with the service provider assures him the repairs are done fairly.
"You always wish that there were faster or didn't cost you so much. But as long as they are reasonable with me I try to be reasonable with them," he says.
Gerald Presley, fleet manager at Traffic Control Devices, says service providers being unreasonable or unfair is one of his biggest concerns when outsourcing. He says his fleet makes larger repairs in house and tries to keep its outsourced work to simple preventive maintenance and breakdowns in situations away from a company garage.
"When [service providers] want something from us they call all the time, but when you have a question for them they don't seem to respond and we can never get ahold of them," he says. "Maybe it is an 'out of sight, out of mind' kind of thing."
Joe Boyd can get in touch with service providers when his fleet outsources service, but the director of maintenance at Universal Pressure Pumping Inc. says when he does get a service provider on the line sometimes he feels he doesn't get the answers he needs to hear.
"They try to sell you too much blue sky. They will give you an ETA and then they will miss it by a long shot," he says.
"When you are sitting there and you can't put a piece of revenue-generating equipment on the road that is really frustrating. You just have to count that unit as down because you can't plan on the accuracy of their delivery date"
R.J. Molder, senior vice president of fleet services at Keenan Advantage Group, says his fleet deals with similar issues when outsourcing service. He says some service providers will get a truck in and diagnose it immediately, but then won't start on a repair. In a business like trucking where efficiency is vital, he says that's a major problem.
"It is one thing to get the truck in but if it is going to sit for three weeks even though [that service provider] had the lowest bid, we are going to be losing revenue on that unit so perhaps we would chose a vendor who can get us out quicker [even if it costs more]," he says.