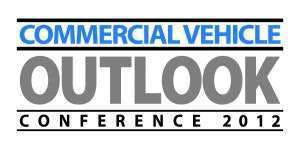 An active discussion on natural gas and an engaging keynote speech by pollster Dr. Frank Luntz highlighted the first day of the Commercial Vehicle Outlook Conference Wednesday in Dallas.
The day kicked off with an overview on the state of the trucking industry by Dan England, chairman of C.R. England, Inc.
During his presentation, England touched on the weaknesses of the hours-of-service and CSA regulations, detailing how each affected his business and the trucking industry as a whole
He said while both regulations are designed to benefit trucking, they are causing fleets more problems than providing benefits.
"I don't like the direction the country is going right now," says England.
Wednesday's second session featured three presentations on the emergence of natural gas technology in trucking, which was followed by a short but informative question and answer discussion.
Dr. Kennon Guglielmo, president of EControls, says his company has produced more than 100,000 natural gas vehicles — most of which are being used in Asia — and believes the United States will soon be requesting large number of natural gas engines as diesel fuel prices increase.
"Oil price escalation is here to stay," he says.
Robert Carrick, vocational sales manager – natural gas at Freightliner, says average diesel prices are now more than double the average price of natural gas. He says that, along with an improving infrastructure and the lack of DPF, SCR and regen emission systems, should continue to raise the interest in natural gas.
Carrick believes Freightliner could reach 20 percent of its input as natural gas engines by 2020.
England says his five  natural gas engines require twice as many maintenance intervals as diesel engines. That, combined with an $80,000 cost increase for the vehicle, has prevented C.R. England from adding more NG trucks.
England says he wants his fleet to use the engines, but "the cost has got to come down."
Guglielmo expects costs to fall while diesel prices keep rising.
"I think those days are coming, but it's going to require volume and buildup," he says.
But Carrick adds that even as natural gas trucks filter into the marketplace, diesel isn't going anywhere.
"True long-haul, over the road trucking will be clean diesel for a long, long time," he says.
R. Eddie Wayland, a partner at King & Ballow, was the day's third speaker. Wayland spoke about employment law potholes and what businesses needs to do to avoid legal issues when hiring.
Wayland says nearly 100,000 charges were filed with the EEOC last year for breaking protecting hiring categories, including race, gender, disability and religion.
"Disability is probably the biggest issue in the trucking industry with employment," Wayland says
The first day of CVOC concluded with an hour-plus presentation by pollster Dr. Frank Luntz
Luntz showed a variety of successful and unsuccessful campaign ads from swing states, and tried to show the audience the reasons why and how they are affecting prospective voters in that state
Luntz answered questions from the office on Mitt Romney, Barack Obama and other elections set for November
While current poll results show the two candidates are close nationwide, Luntz says there are only a small number of states that could swing the election
"More than $1.5 billion will be spent on campaigning to 2 percent of the U.S.," he says.
When pressed on a prediction, Luntz was prompt. "I think Obama wins, unless Romney is really powerful in the debates and takes the action to Obama."
The Commercial Vehicle Outlook Conference continues Thursday.
The Commercial Vehicle Outlook Conference is sponsored by Bridgestone, Castrol Heavy Duty Lubricants, Chevron, Espar Heater Systems, Freightliner, Kenworth, PACCAR Engine, Peterbilt, TRP and Valvoline.