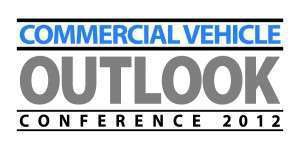 The future of trucking was the topic of Thursday's discussion at the third-annual Commercial Vehicle Outlook Conference in Dallas.
Lori Thompson, vice president, truck and bus OEM business, Cummins Inc., kicked off the conference's second day with a presentation on the future of Cummins' business and how regulations, the economy and customer requests are helping push the company's development forward.
Thompson says Cummins plans to meet 2014 regulations at the start of 2013, and she says the company already has started working on the early stages of 2017 GHG regulations.
But she says Cummins still is waiting for more information about the regulations to be released before proceeding further.
"The 2017 standards are not well known right now," Thompson says. In the meantime, she says Cummins is focusing on other areas. "[Now] that we know we can meet the 2010 and 2014 requirements, it will allow us to work more on improving our fuel efficiency."
Thompson also spoke briefly on natural gas, and like Wednesday's opening sessions, the topic generated a lot of interest.
"Everyone is very, very excited about it," she says. "We can't bring it out soon enough and we are doing everything we can to deliver the trucks as quickly as we can."
Thompson says Cummins is expecting production of natural gas engines to reach 8-12 percent of its output in coming years, but is aware that that number could change if infrastructure is improved rapidly.
"If the infrastructure continues to develop there will be more opportunity," she says.
Thursday's second session, entitled "Meeting carriers changing equipment needs," featured a trio of fleet experts.
Topics included progress in efficiency and fuel economy, waste heat recovery systems for heavy-duty diesel engines and the dramatic rise in the cost of new trucks, along with the associated maintenance and service costs.
Tom Kretsinger Jr., president and COO at American Central Transport, says OEMs need to find a way to increase productively for diesel engines meeting emission standards and new natural gas engines.
Purchasing costs per unit has improved at a five-figure rate over prices in the early 2000s.
"Increasing costs without increasing your productivity just isn't rational," says Kretsinger.
Mike Bromhall, vice president, fleet maintenance and facilities at FFE Transportation, says the dramatic nature of engine advancements and corresponding regulations have led to the price increases.
"We've had more changes in the last 10 years than in all of trucking history combined," he says.
Bromhall adds that with the 2013 EBR mandate and 2014 and 2017 GHG emissions looming, costs will probably continue to go up before stabilizing.
Derek Kaufmann, president of C3 network, agreed, adding that costs in the hybrid-electric and natural gas realms are equally high.
Kaufmann says he is a proponent of hybrid technology in the heavy-duty industry, but says it is a technology that won't work for every fleet operation.
He adds that OEMs still are going to invest in the technology.
"Every automotive manufacturer in the world has a hybrid (division)."
The final presentation of CVOC was delivered by Eaton Vice President and Economist Jim Meil
Meil says the worldwide economy is still growing, but that the rate has slowed dramatically from the last quarter of 2011 and early 2012. He says the U.S. is actually ahead of most other developed countries in its current growth rates, and mentions that China, in spite of its enormous overall expansion, has slowed significantly in its growth in recent quarters.
Domestically, Meil says industrial and retail industries are adding jobs at a considerably faster rate than white-collar office positions.
Like the presenters before him, Meil warned the audience that even if the economy starts growing again, high costs aren't going away.
"There are still challenges on the road ahead; all costs are going to increase," he says.
The Commercial Vehicle Outlook Conference is sponsored by Bridgestone, Castrol Heavy Duty Lubricants, Chevron, Espar Heater Systems, Freightliner, Kenworth, PACCAR Engine, Peterbilt, TRP and Valvoline.