A Look At Electronic Components
By Denise L. Rondini, Executive Editor
Jon Kipper, vice president of business development at Electronics Remanufacturing Co.; Ralph Rulli, vice president, business unit manager – Electronics and Mechanical at Flight Systems Electronics Group (FSEG); and Joe Kripli, global business enterprise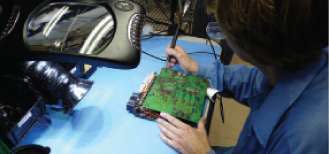 leader at WABCO Reman Solutions, talk about remanufactured electronic components.
TPS: What is involved in remanufacturing electronic components?
Kripli: Remanufacturing consists of disassembly, cleaning, inspection, replacing damaged/broken components as well as updating components, reassembling and testing.
Repair simply replaces the failed component and tests that it works, usually with a limited warranty and no updates to other known early failure components.
Rulli: It is imperative that a robust quality management system be in place. The industry requirements to qualify as a reman supplier are generally an ISO14001 certification and some manufacturers require TS16949 certification.
Beyond that, having a launch team with core competencies in areas such as lean manufacturing, product and process design, reverse engineering, test methods and equipment development, tool making, training, trouble shooting skills and quality control are necessary for any successful remanufacturing venture.
Then you need the right people on the shop floor to process and test the parts.
Kipper: We have to figure out how these things worked and then determine a repair process, procedure and testing. It is not just something any mechanic can do because it involved figuring out how the electronic circuit works.
TPS: Are there any new developments in electronic component remanufacturing?
Rulli: Because many of the products we reman require upfront reverse engineering there are development tools available to expedite that process. We have invested in automated equipment that has the capability to "learn" a printed circuit board and then create an electrical schematic and a bill of material.
On the testing side we now are taking advantage of systems that can capture thermal images of electronic modules which help pinpoint component failure on boards.
Kripli: Most truck ECUs are filled with what's called "potting" or a gel/polyurethane that protects the electronics from vibration and weather-related failures.
Also, most ECU circuit boards are getting smaller as new micro components are developed. ABS units for example are only 25 percent the size they were eight years ago.
TPS: What are the benefits of remanufacturing electronic components?
Kipper: We keep parts from going into landfills. We try to salvage everything possible. [Reman] also is keeping foreign copies down. Owner-operators have been offered offshore copies of the original equipment and that is dangerous. You don't want to assume that a copy of the original electronics is going to do the job properly.
Rulli: Less cost to the consumer as compared to purchasing a new part, and reman parts generally come with the same warranty as new parts.
Remanufacturing is a job creator. A newly produced ECU or ECM is 65 percent material and 5 percent labor, and the remanufactured version is 15 percent and 25 percent respectively.
Kripli: First is price, typically you pay 30 percent less cost for a remanufactured ECU. Second, the unit is very reliable, because the unit is typically "upgraded" with new components due to data provided through warranty information.
Third, and number one in some peoples' minds, is that it is "green" to use remanufactured product because you are keeping scrap components out of the landfills.
TPS: Are remanufactured electronic components suitable for all applications?
Kipper: Absolutely for trucks as well as trailers. We don't alter the original programming of the units. There is nothing we do that would affect the function of the original unit; we just make the repairs to the electronic components or the connectors or whatever is broken. We verify that it performs back to its original specs.
Kripli: Remanufactured units make sense for everyone. It's a cost saver for both the fleet and trucker.
In addition, it enhances profit for the Tier One supplier and OEM. And it's good for the environment.
TPS: How do remanufactured electronic components fit into a distributor's strategy?
Kripli: Normally you will get a consolidation of part numbers with remanufactured units due to supersession. This means a reduction in inventory cost as well as a very competitive price.
Rulli: They allow the distributors to make the same or better profit margins as selling a new part. It also allows them to offer a low-cost alternative to their customers.
TPS: Does the aging truck population present opportunities for remanufactured electronic components?
Rulli: It opens up more opportunities for companies to offer reman components since "new" parts will cost more than reman parts.
Kripli: Absolutely, nobody wants to keep making new parts after 10 years, the volumes just aren't there and the cost of raw material keeps rising.
Typically during production, truck companies are producing 20,000 to 30,000 parts per year compared to 5,000 when the truck goes past model or out of warranty.
TPS: What do you see for the future of remanufactured electronic components?
Kipper: We think that this market is going to have significant growth in the next few years in the power train as well as the chassis cab and trailer.
Rulli: There is a growing need for reman or service solutions in the electric vehicle market. Because the vehicle population of these vehicles is small compared to gas or diesel, the ability of the Tier One suppliers to support service requirements is sometimes difficult and unprofitable.
Kripli: The big influx will be with hybrid transmissions driven by fuel prices.
I see more remanufactured electronics, although I see it primarily coming through the OEM due to emissions and complex software.
As these units get smaller and use micro components, remanufacturers will be challenged with salvaging electronic components. However, from a cost standpoint we really have no other choice but to find solutions.