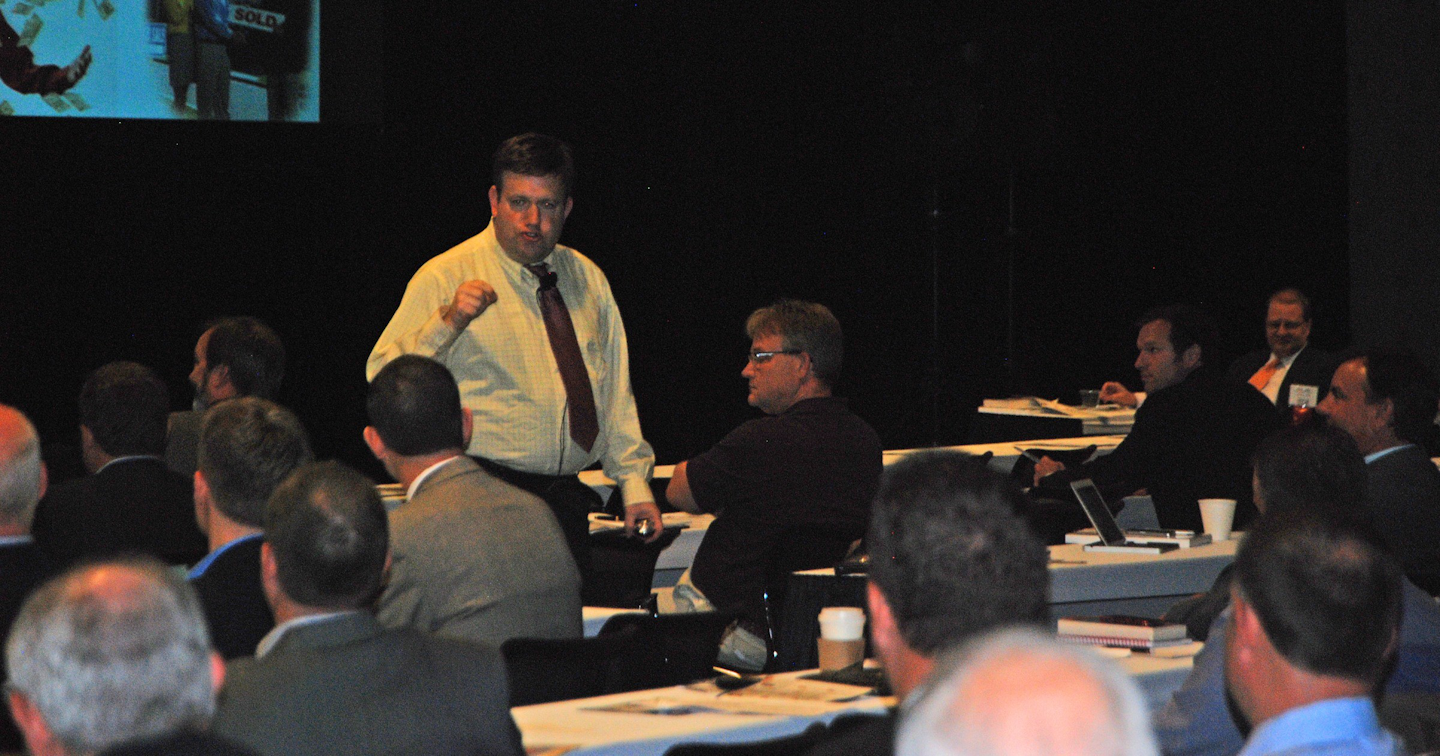 Thought leaders from all segments of the trucking industry gathered in Dallas, Aug. 22-23, 2012, for the third-annual Commercial Vehicle Outlook Conference, produced by Randall-Reilly Business Media & Information and the Heavy Duty Manufacturers Association. Attendees enjoyed expert presentations, panel discussions, an interactive discussion of the upcoming Presidential election, and numerous networking opportunities during two half-days immediately prior to the opening of the Great American Trucking Show.
"Response to the program content, format and new venue from attendees and sponsors was overwhelmingly positive," says Alan K. Sims, vice president/executive director, Randall-Reilly Events Group. "Outlook is quickly becoming the place where professionals from all segments of the trucking industry gather to learn about industry trends, to understand the major issues impacting trucking and to network with their peers, suppliers and customers."
"The supplier members of the Heavy Duty Manufacturers Association and their fleet and OEM guests and customers gave us a considerable amount of highly positive feedback on this year's Outlook program," says Tim Kraus, president and COO of HDMA. "As Outlook matures as a conference, it is drawing an even greater audience of industry leaders, from the fleet owner, OEM, dealer, distributor, supplier and financial analyst communities. Our on-site attendee survey shows us that Outlook presentations are at the top of the list for our attendees' priorities, but the executive networking element of the conference is a close second. This is considered to be a must-do event for our industry. We enjoy working with our partners in the Randall Reilly group to produce this program each year at GATS."
The conference drew several hundred registrants, including fleet executives, truck and trailer OEMs, suppliers and dealers, who enjoyed the conference's new location in the completely new Ballroom D at the Dallas Convention Center. Fleet registrants represented at Outlook own more than $8 billion plus in trucks and trailers..
Highlights of the conference included a keynote address by Dr. Frank Luntz, pollster and communications professional, and opening remarks by Dan England, chairman of the board of C.R. England and chairman of the American Trucking Associations, and Lori Thompson, vice president – truck and bus OEM business, Cummins, Inc. Other speakers included:
Dr. Gene Goodson, alternative energy expert and former CEO of Oshkosh Truck, Dr. Kennon Guglielmo, president, Econtrols, Robert Carrick, vocational sales manager-natural gas, Freightliner Trucks and Dan England, chairman, C.R. England, who discussed the market realities and future potential of natural gas powered trucks.
Derek Kaufman, president, C3 Network, Mike Bromhall, vice president, fleet maintenance and facilities, FFE Transportation and Tom Kretsinger, Jr., president and COO, American Central Transport, discussed trends impacting fleets' equipment choices, including regulations, fuel prices, residual values, driver retention and changes in freight movement.
R. Eddie Wayland, partner, King & Ballow, provided insights into critical employment law issues such as corporate social media practices and activities by the National Labor Relations Board.
Jim Meil, vice president Eaton Corp., discussed economic trends affecting trucking now and in the coming decade.
The 2013 Outlook will be held at the Dallas Convention Center Aug. 21-22, as part of Intersection 2013, an all-encompassing trucking and construction event, which includes the Great American Trucking Show, ProPickup Truck Expo, the Construction Symposium and other state and national association meetings.
Outlook was sponsored by Bridgestone Commercial Solutions, Castrol Heavy Duty Lubricants, Chevron, Espar Heater Systems, Freightliner Trucks, Kenworth Truck Company, PACCAR Engines, Peterbilt Motors Company, TRP and Valvoline. Commercial Carrier Journal and Successful Dealer were media sponsors.
For information on participating in the 2013 Outlook, contact HDMA at www.hdma.org or Alan Sims at asims@randallreilly.com or (800) 633-5953, ext. 1339. More detail on this year's conference can be found at www.cvoconline.com. To view presentations from this year's Outlook, go to www.cvoconline.com/presentations.