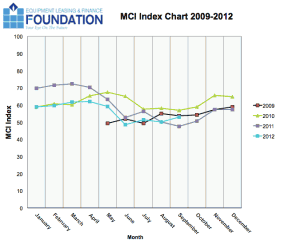 The Equipment Leasing & Finance Foundation's September 2012 Monthly Confidence Index for the Equipment Finance Industry was released last week, and confidence in the equipment finance market is 53.0, up from the August index of 50.2. The Foundation says this reflects increased optimism despite concerns over companies' willingness to expand their businesses in the face of economic and political uncertainty.
"The industry is performing well and new businesses are entering the segment to join the positive experience our asset class enjoys," says Anthony Cracchiolo, president and CEO, Vendor Services, U.S. Bank Equipment Finance. "However, the growth of our industry is tightly aligned with the overall U.S. economy and our industry's future will be determined by the broader actions of the U.S. economy."
Designed to collect leadership data, the index is said to report a qualitative assessment of both the prevailing business conditions and expectations for the future as reported by key executives from the $628 billion equipment finance sector.