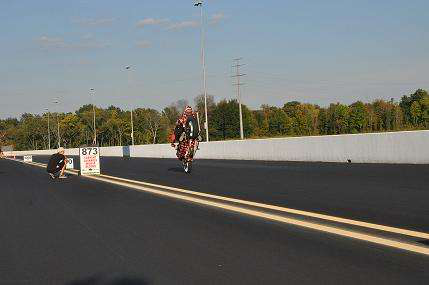 The third annual Charlotte Diesel Super Show, held earlier this month at the zMax Dragway in Concord, N.C., was a record-setting event.
Professional sports bike freestyle rider Jesse Toler set two world records by performing not only the world's longest stoppie, but a stoppie — a motorcycle trick in which the back wheel is lifted and the bike is ridden on the front wheel — at the fastest speed ever, 150 mph.
"This years' show was a great success, and having two world records set really amplified that," says Alan Sims, vice president and executive director of Randall-Reilly Events.
The two-day show gave attendees many opportunities for fun and entertainment: Diesel pickup and big rig drag racing competition, the Overdrive Pride & Polish truck beauty contest, an outdoor expo of more than 100 industry-related displays, jet funny cars, Hooters wing eating contest, monster trucks displays and country music concert by Candy Coburn, Randall-Reilly says. Attendees were able to take drives down the zMax Dragway.
Tony Welnicke of Big Rig Chrome, says, "The people are wonderful, the show is great, and we have pretty much sold out of everything we brought down here.  We will definitely be back for the show next year."
"For the third year in a row, the Charlotte Diesel Super Show had something for everyone," says Sims. We had very positive feedback from exhibitors and attendees. The Charlotte Diesel Super Show has proven to be a great addition to our event lineup, delivering what our clients have come to expect. The show really delivers something for everyone."
For more information on please visit us at www.dieselsupershow.com.