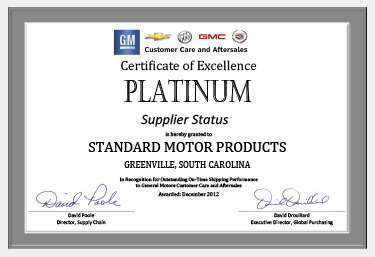 Four Standard Motor Products' shipping locations have been recognized for outstanding On-Time Shipping performance by GM Customer Care and Aftersales. GM Customer Care and Aftersales awarded these locations awards in recognition of their outstanding shipping performance.
Facilities in Greenville, S.C., Independence, Kansas and Edwardsville, Kansas were each awarded a Platinum Level status while the Grapevine, Texas facility was honored with Gold level.
SMP's facility in Greenville, South Carolina specializes in the manufacturing of fuel injectors, HEI ignition coils, ignition coil-on-plug units, camshaft/crankshaft sensors, and ABS sensors. Independence, Kansas specializes in manufacturing a wide variety of automotive electronics and electromechanical components. Edwardsville, Kansas is the Wire & Cable distribution headquarters. The plant in Grapevine, Texas is home to 'Four Seasons', SMP's temperature control division. There, they specialize in manufacturing and distributing automotive equipment replacement climate control products. In addition to Four Seasons, SMP's Maxair division is a housed in the Grapevine facility.