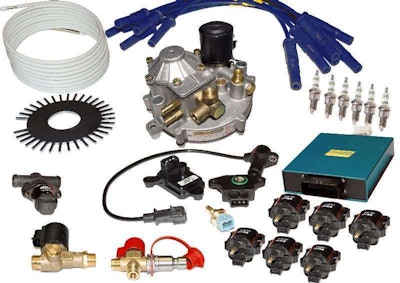 While it's true that natural gas engines can greatly lower a fleet's fuel costs, those cost benefits don't come without upfront expenses.
New natural gas engines cost up to $90,000 more than a comparable diesel engine, says Mike Delaney, president and CEO of WheelTime.
Such prices have led some fleets to turn to natural gas conversion kits, which transform a diesel engine into a natural gas engine or a dual-fuel engine — at fraction of the price of a new engine.
That's a selling point for many fleets, says Delaney. "If you look at the natural gas market today, one of the things you see is, unless you are really burning fuel and putting a lot of miles on your trucks, you aren't getting that [fuel] payback quickly.
"With these kits, you can see payback in 18 to 24 months, and the initial costs are a fraction of what a new engine costs."
Natural gas conversion kits were introduced in the United States in 2011, and are typically installed on trucks that are at least two years old; trucks that are already active in your market.
Servicing these vehicles requires an update to your facilities, and an understanding of how these conversion kits alter the engine.
American Power Group produces a non-invasive conversion kit that turns a diesel engine into a dual-fuel engine.
The kit works by introducing natural gas into the vehicle through the turbocharger. The engine is started with APG's negative-pressure system and the air used in the start is replaced with a percentage of natural gas, says Lyle Jensen, APG president. When running, a majority of the fuel burned is natural gas.
Omnitek Engineering's conversion kit transforms a diesel engine entirely to a natural gas engine, says Werner Funk, president of Omnitek The conversion is performed during a scheduled engine overhaul, Funk says, with specific diesel components swapped for natural gas alternatives. Once the overhaul is complete the engine operates with the same properties as a factory-built natural gas engine.
And both kits are a fraction of the cost of a new engine.
"[Fleets] want to get some experience with these engines and this gives them that opportunity," Jensen says.