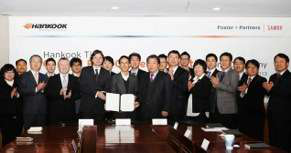 Hankook Tire plans to build a new, high-tech central research and development facility in Korea.
Hankook Tire and architects Foster+Partners held a signing ceremony in Daejeon, Korea Jan. 7 to commemorate the new partnership for this project.
The R&D center is expected to be equipped with high-tech, future-oriented facilities, including a seven-story tire auto-stacking system and smart information system. Through such a state-of-the-art research facility, Hankook Tire says it aims to provide the most suitable environment for its researchers, therefore securing the premium product quality and extending sustainable growth of the company into the future.
"Upon completion of the new R&D facility, Hankook Tire will be able to further strengthen research capabilities to develop cutting-edge tire technology," Hyun Bum Cho, president, chief marketing officer and chief corporate management officer at Hankook Tire, said. "The new R&D center will enable us to accelerate the introduction of new tires with even more advanced features, fulfilling our customers demand for better, premium quality products."
The new R&D center will cover a total area of 1,065 square feet. Construction of the new facility is projected to be complete by the end of 2015.