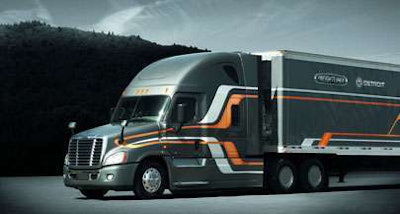 Daimler Trucks announced Wednesday sweeping job cuts as the company seeks to boost profitability.
Up to 2,100 jobs globally are expected to be eliminated, with as many as 1,300 production jobs in North America are targeted in the cut back, Bloomberg News reported.
Joe Kear, a representative with the International Association of Machinists District W24 Lodge in Oregon, told The Portland Business Journal he expects 250 workers to be laid off in Portland next month. After the cuts, Kear said, he expects the plant to transition from two shifts to one.
According to Bloomberg, Daimler has already begun negotiations with the United Auto Workers union on pending North American job cuts.
Bloomberg reported the company also plans to cut 800 non-production positions in Germany through voluntary departures.
Daimler spokesman David Giroux says the company would release more details Thursday.
Wednesday's news is the second piece of bad news for the makers of Freightliner and Western Star trucks, as Volvo announced Saturday their intent to purchase stake in Chinese truck maker Dongfeng – a move that that is likely to catapult Volvo past Daimler as the world's leading truck manufacturer.