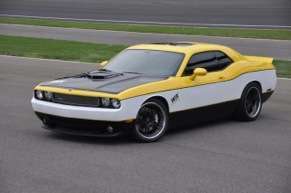 Wix Filters has expanded its mobile marketing program by adding the Richard Petty Challenger to join the Wix H2 in 2013. The mobile marketing program will increase its event presence by 54 percent with 185 H2 events and 100 Petty Challenger events for a total 285 events in 2013, the company says.
"Adding the Petty Challenger to our mobile marketing program allows Wix to further our local and regional customer events and trade shows, attendance at motorsports events while also deepening our relationships with our customers' customers," says Mike Harvey, brand manager for Wix Filters. "The Wix H2 and its driver, who is known across the country as Hummer Bob, have built a successful following over the past nine years and we hope to continue the excitement of the program by adding the Richard Petty Challenger and more events across the U.S."
The Richard Petty custom-built 2010 Dodge Challenger was created for Wix Filters by Petty's Garage, a high-performance speed shop founded in 2008 as an expansion of Richard Petty's competitive career and ambition to find ways to continue to win on and off the track. Wix says the Challenger also features a Wix-inspired paint scheme and is fully equipped with Wix oil, air, fuel and cabin air filters. Roger Whitworth will be at the helm at the Petty Challenger.