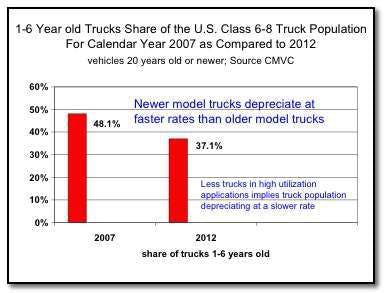 Commercial Motor Vehicle Consulting (CMVC) CV Parts Aftermarket Leading Indicator (PLI) decreased slightly in January 2013 to 97.71 from 97.76 in December 2012, continuing a downward trend what began in August 2012.
The six month trend, the research and analysis firm says, implies that fleet business conditions have softened, while the PLI "appears to be stabilizing" and remains above the "critical" value of 95.
"CMVC views 95 as an inflection point as a PLI figure below 95 implies fleet cyclical factors have weakened to levels causing fleets to make substantial changes to operations, such as the temporary idling of trucks that decrease parts aftermarket sales," CMVC president Chris Brady says.
"Changes to fleet operations in response to weak fleet business conditions implies adjustments to truck capacity, such as temporary idling trucks, returning leased trucks prematurely, reducing truck capacity and other strategies that indirectly slow the rate of depreciation of the truck population resulting in lower parts aftermarket sales," he adds. "A PLI figure above 95 implies truck utilization remains at relatively high levels resulting in normal depreciation of the truck population."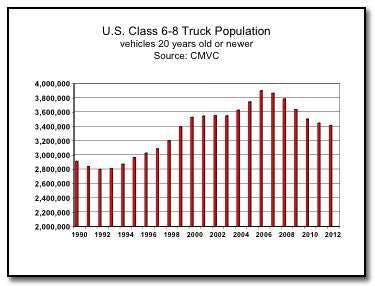 Changes in the vehicle population ultimately impact parts aftermarket sales as the vehicle population determines the install base of parts.  The timing in changes in the vehicle population to changes in parts aftermarket sales depends upon parts' lifecycles.  For example, Brady says, oil filter aftermarket sales feel the effects of changes in the vehicle population relatively quickly as compared to brake drum, since oil filters have relatively short lifecycles in comparison to brake drums.
The study suggests, since PLI is relatively stable and above 95, fleets are making moderate adjustments to operations to improve profitability, so vehicle demographic factors are playing a larger role in influencing parts aftermarket sales.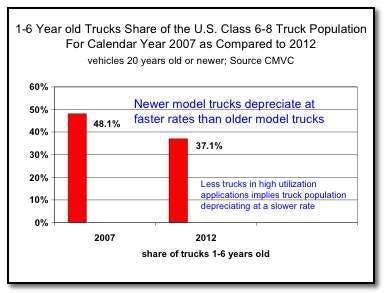 "The truck population has shrunk in response to lower freight volumes/business sales as a result of the recession and newer model trucks make up a smaller share of the population than before the recession, so vehicle demographic factors imply a soft parts aftermarket sales environment as compared to past periods when the U.S. economy was expanding," Brady says. "During past periods, a growing U.S. economy stimulated growth of the vehicle population that ultimately stimulated parts aftermarket sales."
About the PLI: PLI was designed by CMVC to be a short-term forecasting indicator of U.S. commercial vehicle parts aftermarket sales by signaling peaks/troughs and inflection/turning points in parts sales due to changes in fleets' business environments as a result of cyclical change in the business cycle – expansion, recession and recovery.