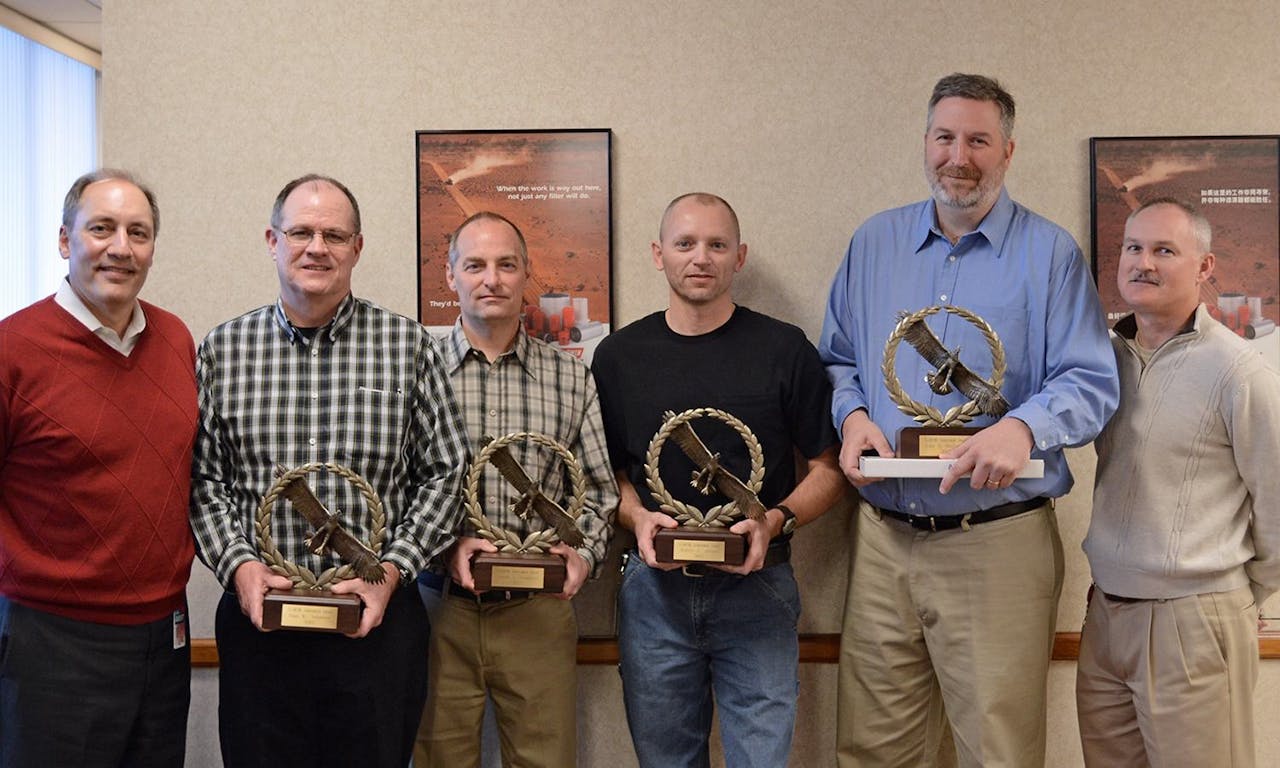 Four Baldwin Filters employees were recently presented the CLARCOR Achievement Award for outstanding achievement in 2012.
Bob Jaixen, Stan Johnston and John Macrander from the Kearney, Neb., Baldwin Filters location and George Lundgren from the Yankton, S.D. facility were recognized for their efforts in recent expansion projects at the two facilities. The employees were honored during a visit from representatives of Baldwin Filters' corporate parent, CLARCOR.
Baldwin Filters says the award is given to an individual employed by a CLARCOR company who has exhibited behavior that embodies the values and philosophies of CLARCOR.
Macrander, senior manufacturing engineer, was recognized for identifying the needs and following through to installation and implementation of new can-making lines in Kearney and Yankton.
"John's project management skills have been exceptional. He has done a great job planning, communicating, coordinating multiple resources and installing the state-of-the-art can-making lines on a very tight timeline," says Monte Gulick, plant manager in Yankton.
Jaixen, manufacturing engineer, was honored for his concepts and tooling design on the new can-making lines in the Kearney and Yankton facilities.
"The tooling designed for these presses has allowed can production to increase and for changeover times to be significantly reduced," says Kevin Barker, plant manager in Kearney. "Bob has the knowledge and understanding of what we need as a company for continuous improvement."
Johnston, senior manufacturing engineer, was recommended for the award for his leadership of the Yankton plant expansion and installation of a new spin-on assembly line.
"Stan has exhibited sound project management. He hasn't shied away from making the tough decisions and has dealt with all involved with the project in a very professional manner," says Gulick. "We look forward to working with the assets that Stan has put in place. "
Lundgren, production manager, was recognized for his work on three major projects over the last year.
"He has worked very closely with both Stan Johnston and John Macrander as they have led projects to expand the facility and begin installing equipment necessary to relieve capacity constraints in our Kearney plant and move the Yankton plant more deeply into the production of heavy-duty spin-on filters," says Gulick. "His drive to see all tasks through to timely completion has led to successful implementation of all three projects."
"It is not often that we implement major capital projects without delayed implementations or projects that exceed the initial estimated expenditures," adds Dan Schulte, Baldwin Filters vice president of operations. "These projects were well planned and managed. They were executed within the capital budget and implemented on or ahead of schedule. These individuals deserved to be recognized for their outstanding efforts."